The Article
Get An Ear Full!
11th July 2016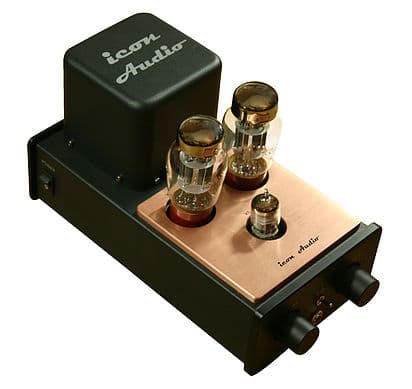 Icon Audio has recently upgraded its HP8 headphone amplifier to the Mk.II standard. Paul Rigby dons his cans
Some people buy 'toy' dogs because those miniaturised pooches are both cuddly and easy to handle, a lot easier than the often lolloping, two ton, shaggy hounds that roam the streets and parks. Gazing at Icon Audio's latest HP8 Mk.II headphone amplifier, I had to restrain an involuntary 'Awww' and an immediate urge to pick it up and say, in an annoyingly cloying tone, 'Who's a good boy!" Yes, I know I need to get out more and, ok, my hospital appointment is in the post but the HP8 looks, at first glance, like a 'cuddly' version of the company's Great Dane-like 845 power amps.
Designer and head honcho at Icon Audio, David Shaw, designed the HP8 Mk.II that way, to give it a 'family' resemblance, "I wanted the headphone amp to have a distinctive look that bore some similarity to our other models," said Shaw. But why a Mk.II in the first place? "We had a certain amount of restructuring, we moved our factory and, subsequently, we made further developments in the likes of transformers and the like and so I saw further improvements could be made to the HP8. The earlier version used an EL84 valve, probably the smallest in the range of hi-fi output valves. It was used in the Leak TL-12 and Stereo 20 and it's often used in headphone amplifiers today but I thought that the 6SN7, which is a very versatile valve, had exceptional audio qualities and there are various kinds available. I thought that it would be a better valve to use."
The output for the HP Mk.II is about half what it was before which will still provides a good sound level. Shaw also upgraded the transformers, "We wind our own transformers. They now have an improved bandwidth and definition. We've found better quality copper now and the way that they are wound is slightly different."
Looking at the HP8 Mk.II, you really get a sense of how mechanical this little beast is. This is a pure valve unit. It's not a hybrid, a box with a valve output stage or a part valve construction. It is a pure, miniature mains valve amplifier complete with a miniature transformer and power supply. On that subject, it doesn't offer a plug in the wall supply as many other products of this type do. Instead, it has a built-in model along with good quality components and hard wiring. It's also very simple, featuring just three valves.
"That is very important," emphasised Shaw. "Partly for reliability but also it's easier to build something that's relatively simple, then you can predict the result. It's one of the beauties of valves that you can get great results from just a few of them."
Another reason that the Mk.II exists is because of customer demand, "The existence of this unit follows a lot of requests, confirmed Shaw. "Before the HP8 was built, we had a headphone section on a lot of our integrated amplifiers. People were telling us that they listened a lot to headphones, in some cases they didn't listen to speakers at all because of where and how they lived."
Shaw then felt that he was possibly missing out and that his products could deliver something different to the competition. He also believed that his headphone amp would sound a little bit warmer than some of the other products on the market, "I listen on headphones quite a lot and some material can sound quite strident, harsh and overwhelming. My ideal sound doesn't sit well with that. It's not the sound I get from loudspeakers and it's not the headphones, I think it's the hardware presentation."
Shaw prefers valves in a headphone amp, rather than solid state, because you have a far more intimate relationship with a pair of headphones than you do with a pair of speakers. Hence, the level of detail that a system is capable of can be astonishing. With valves, they, "Match people's expectations of what they expect to hear. They suite the profile of our hearing better. Digital circuits emphasis more faults and problems in the recordings which easily turn onto glare or over-brightness leading to listening fatigue – which is emphasised still more via headphones."
The chassis of the Icon itself, coloured black, measuring 1480 x 110 x 350mm and weighing in at a respectable 6.5 kg, includes a full size headphone socket on the front with an ALPS volume pot and a low/medium/high output switch to cater for all headphone types while the rear includes a pair of phono inputs, power socket and earth connector. Inside, you will find high quality cable mixing copper, silver and Teflon plus, notably, ceramic sockets as opposed to Bakelite valve sockets to provide better insulation and which are less prone to leakage, "We even use good quality iron — a special iron from Japan — used in our hand-wound transformers, which effects sound quality."
And as for that sound quality?
SOUND QUALITY
During sound tests, I compared the Icon to the valve-based Musical Fidelity X-Can 8VP.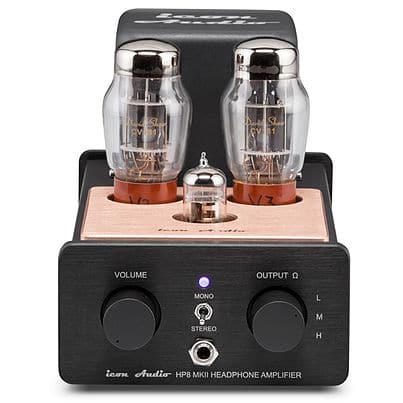 Starting with vinyl and Kate Bush's The Painter's Link from her Aerial album, the Icon introduced far more air into the presentation and a smoother flow to the music. Via the Musical Fidelity (MF), Bush sounded rather claustrophobic in her delivery. With the Icon, her voice had a more rounded nature, as her diction became more precise while her own backing dubbing provided far more personality compared to the Musical Fidelity's rather processed view. The brief Rolf Harris (he's not just captured in a groove now, of course) spoken word introduction also introduced a textured, granular aspect that the Musical Fidelity featured but the Icon successfully explored to the full. Upper mids had a far more sparkling nature while treble performed with a greater sense of freedom. A heavily bass orientated track, drums sounded tighter on the Icon than the MF which had a slightly woolly, low frequency performance while the ear could track the bass guitar easily via the HP8.
Replacing Bush with Johnny Cash and Seasons Of My Heart from the Columbia original, Now There Was A Song! Both of these units are run by valves and both were running vinyl yet the Icon sounded warmer than the MF. This was down to a maturation of the overall sound on the Icon's part, giving the vocal an extra strength and potential for greater power. Bass was now focused and better integrated into the mix because of a lack of the MF's slight bloom in this area. The MF provided an excellent suite of detail with crisp upper mids but could be accused of lacking realism and humanity. The Icon injected a much needed sense of emotion, fattening out the soundstage to boot.
Moving to CD and the Icon CD-X1 spinning the Helen Merrill LP Jazz 'Round Midnight. Singing Summertime, this easy-paced ballad is dominated by the slow, deliberate double bass beat which was a little flabby on the MF compared to the more precise Icon. The Icon also provided a greater examination of the instrument, mining a rich seam of detail and transferring subtle, yet distinct, elements such as the plucking of each string, which was realised on the Icon. The sound, on the MF, had a contrived, almost manufactured feel which dramatically changed when the Icon hove into view. The latter packing in more air and emotion to swathe the Merrill vocal with nuance and subtlety.
Finally, I played the Greenslade prog rock piece, Live 1973-1975. A live recording and tough to get right, the Icon infused it with a free, airy, dynamic atmosphere the gave the band an immediate sense of freshness. Compared to the MF, the Icon made the band sound more alert. Upper mids had a detail and clarity that the MF struggled to emulate while the soundstage had a broader, more entertaining and grander aspect. Bass sounded positively mean and aggressive, adding weight and substance while its own detailed aspect lended it a personality that the MF found difficult to maintain.
CONCLUSION
Well built and sturdy (Icon Audio quotes a lifespan of twenty years for their products including this headphone amp which is "infinitely repairable", according to David Shaw – no 'throwaway society' on Planet Icon!) with pleasingly rugged lines, conforming to the Icon house style, the Icon HP8 Mk.II is an impressive performer that allows your headphones to perform to the best of their ability. Offering a transparent midrange plus characterful low frequencies, the Icon is a great, value for money, all-rounder that is effective competition for models at four times the price.
---
ICON AUDIO HP8 Mk.II
Price: £550
Tel: +44(0)116 2440593
Web: www.iconaudio.com
---
Good: it's cute!, upper mids, focused bass & airy soundstage
Bad: nothing
RATING: 8
---
REFERENCE SYSTEM
Avid Acutus turntable
SME IV arm
Benz Glider cartridge
Icon PS3 phono amp
Aesthetix Calypso Preamp
Icon Audio CD-X1 CD player