The Article
The Rocker: talking to expert and author, Derek Henderson
24th May 2015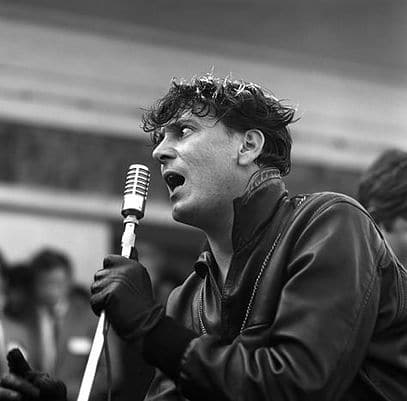 He was leather-clad, greasy-haired and the real deal. Gene Vincent was one of rock's original rebels. Paul Rigby talks to Vincent expert and author, Derek Henderson, about the man himself and examines his seminal album, Gene Vincent and the Blue Caps
It was the legendary and late BBC Radio 1 DJ, John Peel, who would later record Gene Vincent on his Dandelion record label, that counted a Gene Vincent concert as one of his 10 best gigs of all time. The concert took place at the Liverpool Empire, on 12 April 1960, when Vincent shared a stage with Eddie Cochran, "Gene looked, as I dreamed of looking, completely out of control. He almost completely ignored the audience, staring wild-eyed into the wings as though demons lurked behind the Empire's plush curtains.
"From time to time, he would fling his damaged leg – held together, we were told, in defiance of medical reason, with pins – over the microphone, and that unearthly high, almost feminine voice that I sang along with in my bedroom echoed like something abandoned and fearful, in the Liverpool night. Gene was perfect, exactly as I had hoped he would be, and all I have to do to recapture that night is listen to Race With The Devil or Who Slapped John or any other of dozens of classic tracks. Perhaps the fact that Gene never really made it commercially in the way that he surely should, helped to endear him to me."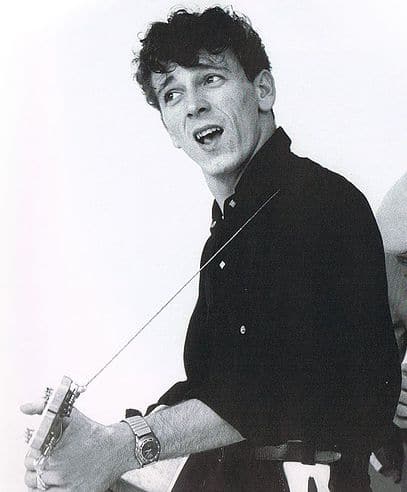 Vincent was born in Norfolk, Virginia, into a poor white family, on 11 February 1935. He wasn't well educated, only reaching the eighth grade at school. That and his lack of work-based skills prompted his move to the US Navy.
"It was whilst on leave on 4 July 1955, riding his Triumph motorcycle bought with his service salary, that he was involved in a serious accident with a car, which shattered his left leg and permanently crippled him," said Gene Vincent expert and author, Derek Henderson. "It never healed and he continually damaged it on stage. It would have been better if the limb had been amputated at the time, probably. He was continually in pain." Maybe this explains his intake of pain killers and alcohol.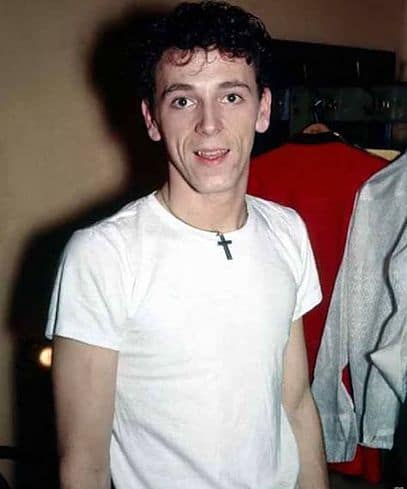 It was when Vincent began performing at the weekly WCMS radio station talent show, in early 1956, that he was spotted by the station DJ, William "Sheriff Tex" Davis. Davis quickly became Vincent's manager and then undertook a search for local musicians to cut a series of demos to send to Davis' contact and Capitol staff producer, Ken Nelson, "Cliff Gallup, in his mid-20s at the time, who was a local semi-professional electric lead guitarist with The Virginians, was one and the 15 year old Dickie Harrell, on drums, was another. Nelson was impressed enough to contact Davis and set-up a session in Nashville. This was probably when the acoustic rhythm guitarist, "Willie" Williams and double bass player, Jack Neal, consolidated the line-up."
To some eyes, it might seem a little odd that the manager is running around town, getting together a band. Shouldn't Vincent have already done this? Vincent, however, had no musical vision, at this stage. He wasn't a leader either at this time in his career. In fact, he was just a wide-eyed kid who went along for the ride because he dearly wanted a hit record.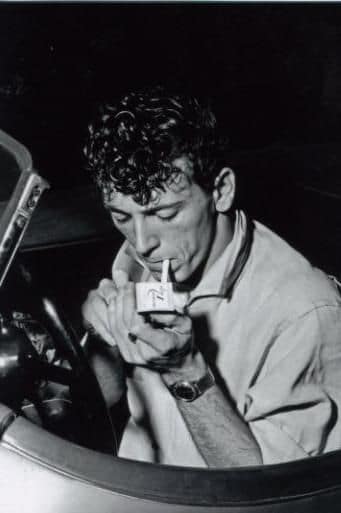 On 4 June 1956, Capitol released the single, Be-Bop-A-Lula and Vincent grabbed himself that desired hit single. In fact, on 16 June 1956, Be-Bop-A-Lula entered the Billboard chart and stayed there for 20 weeks and the Cashbox chart for 17 weeks, peaking at No 7 and No 5 respectively.
Once the single hit the ground running, Capitol followed suit as Ken Nelson, who produced the first session of four songs, rushed Gene and the band back to Nashville in June to cut tracks for their first album.
"They managed to get together some material themselves while Nelson suggested other material – he liked ballads, which wasn't a problem for Gene because his could sing anything."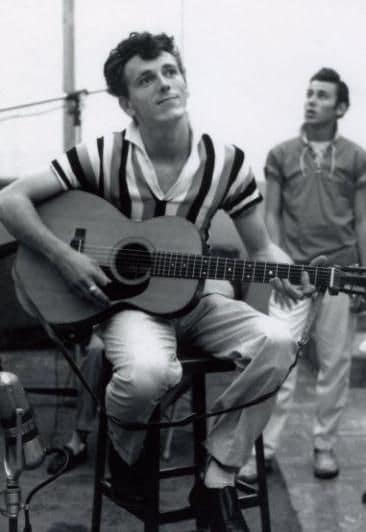 On 13 August 1956, the debut LP, Bluejean Bop!, was released while, on 10 September, Capitol released the Race With The Devil single, which entered the Billboard chart for a week at No 96 and the Cashbox chart for two weeks, peaking at No 50. Don't dismiss the relatively low numbers, though, "Just to get a record in the national charts then was big business," confirmed Henderson.
On 26 September 1956, the LP, Bluejean Bop!, entered the Billboard album chart for two weeks, peaking at No 16.
As you can see by the gamut of closely space dates Vincent and his band were plunged into a hectic lifestyle. The band were caught, suddenly, in the spotlight. In addition, as Henderson explained, "You can see the momentum here, Capitol wanted more, so they called the band back to Nashville again in October 1956 to cut more tracks, some of which become the second album, Gene Vincent and the Bluecaps."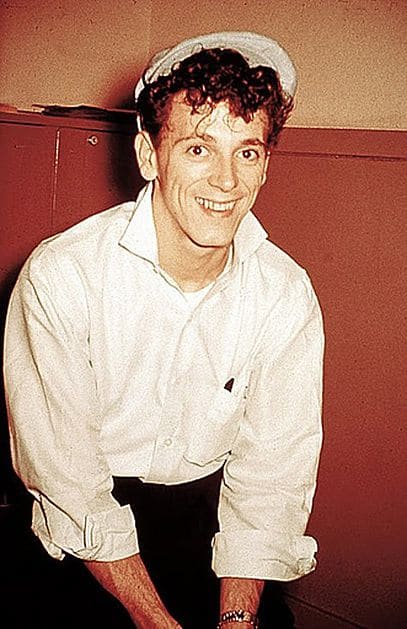 As soon as Be-Bop-A-Lula hit the charts, Davis exploited the success to best of his ability. In mid-July 1956, Vincent began the first of many gruelling concert tours plus a national TV appearance on the Perry Como show, hosted by Julius La Rosa.
"Whilst Gene and, no doubt, Dickie made hay while the sun shone, Cliff, who was a married man, and Williams didn't enjoy the experience at all and quit the band in September 1956. At this point the Blue Caps line-ups became more complicated than we need go into. Paul Peek replaced Williams on rhythm guitar but several guitarists temporarily filled in, including Russell Williford, who mimed Gallup's part in the cameo in The Girl Can't Help It movie. Paul Peek mimed Williams' part in the movie. When it came to the recordings in October 1956, the Gene Vincent and the Bluecaps album, everyone knew that Gallup was far better than any of the stand-ins who'd been playing live gigs, so he was persuaded to return just for the sessions. He was adamant that he wasn't going back on the road."
Gallup's arrival brought an essential hot guitar sound to the album along, it has to be mentioned, a top quality song, You Better Believe which kept company with a few other worthy tracks such as Cruisin' and Hold Me, Hug Me, Rock Me that proved to be among the best songs that Vincent ever recorded.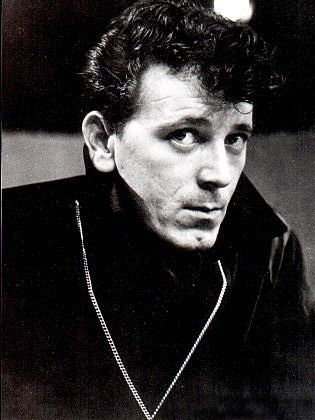 The talented Gallup also appeared with a mandolin-like presentation on I Sure Miss You that was a memorable and unusual take on this song.
Recorded shortly after Bluejean Bop!, Blue Caps exhibits obvious similarities but Blue Caps also reveals new depth along with an added sense of artistic development, a new confidence and poise. Of course, the fact that the debut was such a rushed affair had to be a factor in that LPs rather loose structure.
The influence of producer, Ken Nelson should also not be forgotten as an element in the Blue Caps album success, "Ken was an extremely experienced and successful record producer," said Henderson. "He was in his mid-40s by the time he took Gene on. It is reputed that he thought little of rock'n'roll but he had a job to do. He was known as a perfectionist in the studio, with clear ideas about what he wanted. He was willing and able to offer kindly suggestions to musicians. On the other hand, it is clear from studio chat from the large number of outtakes, that he was quite indulgent of Gene in the studio, although he kept going until he was satisfied the take was good."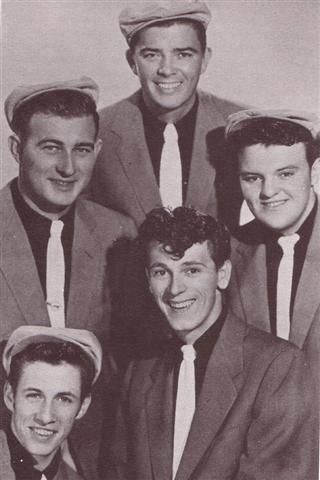 Nelson's influence can be seen in the album in other ways too. For example, note Vincent's take on the classic song, Unchained Melody that was, commented Henderson, "Almost certainly suggested by Nelson." Nelson being a great lover of the ballad.
It's Vincent's delivery of the Delmore Brothers' track, Blues Stay Away From Me, where we see an emphasis in Vincent's dark approach to the song, "Gene sang from the heart, he loved singing. I don't think he was consciously developing a style, just doing what came naturally to him. He certainly never had any training! He had a natural talent and an unusual voice," added Henderson.
The finished album was a revelation. To such an extent that it blew away every other white rock'n'roll band in the world at that time. The album was seen as a high point in rock and a symbol of what the rock'n'roll genre was capable of creating. It also cemented Gene Vincent's position in the pantheon of rock greats.
"I suppose one of the reasons Gene Vincent was always my favourite of the early rockers," said John Peel, "was that unlike most of the others, Eddie Cochran, Jerry Lee Lewis, even Elvis Presley, he wasn't just a country and western artist who was making rock'n'roll records and wanted to get back to doing country and western music. He was always a rocker."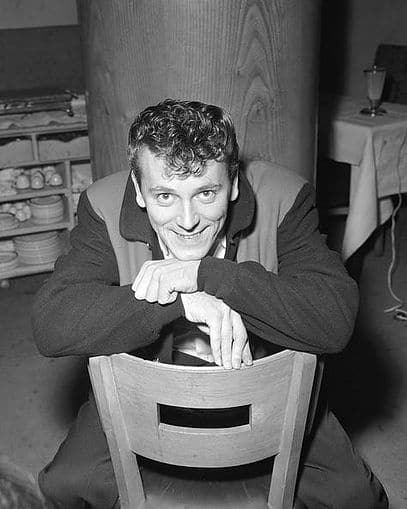 GUITAR AT A GALLUP
The epitome of dexterity, speed and imagination and an inspiration to a range of contemporary guitarists such as Jeff Beck, Gallup was one of the greatest guitarists in rock'n'roll history as well as a technical innovator.
Reportedly, he was recognised for his abilities as a series experienced session guitarists were made ready to step in during the first session for the Vincent debut album, Bluejean Bop!, but distinctive solos on Race with the Devil proved that Gallup could more than hold his own. Many believe that Gallup's prowess was rather wasted when the band covered a bunch of pop standards on their second round of sessions in June but tracks like Bluejean Bop! and Jumps, Giggles and Shouts were impressive highlights.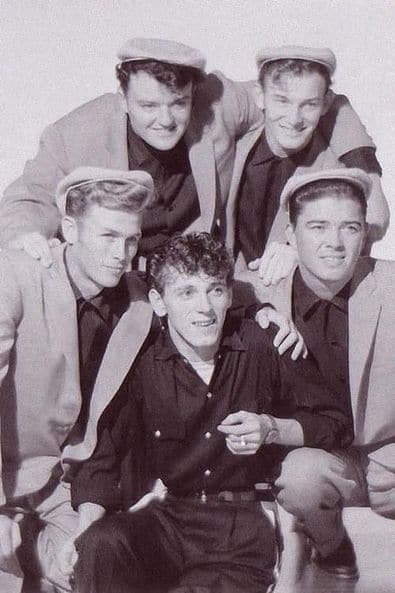 Gallup always disliked the touring obligations, however, which ultimately lead to him leaving the band. He would briefly return to the fold for the recording of the Gene Vincent and the Blue Caps album. Some fans believe that Gallup's exit from the band partly lead to Vincent's change in style to a softer presentation style. Gallup himself would move further away from the music business, as the years rolled by, despite being offered a contract from Vincent's producer, Ken Nelson, which Gallup turned down and the later release of a low key solo album, Straight Down The Middle (Pussy Cat), in the mid-'60s.
At the time of his death from a heart attack in 1988, he was the Director of Maintenance and Transportation for his regional school system.
With Gallup in mind, ex-BBC DJ John Peel commented, "I think the quintessential rock and roll record for me…brings together my two favourite elements, which are those kind of untamed voices, people sounding like madmen really, or mad women, mainly madmen and guitar playing. I've never understood why it is that nobody has actually duplicated the guitar sound that was on those early Gene Vincent records – that very high, clear, ringing guitar sound. So the very best record I think of the era and the genre was Gene Vincent & The Bluecaps', Race With The Devil.
LISTEN UP!
Tracklist
Red Blue Jeans and a Ponytail
Hold Me, Hug Me, Rock Me
Unchained Melody
You Told a Fib
Cat Man
You Better Believe
Cruisin'
Double Talkin' Baby
Blues Stay Away from Me
Pink Thunderbird
I Sure Miss You
Pretty, Pretty Baby
Released in 1957, in the UK and USA on Capitol, the album would undergo a reissue in Europe in 1976, specifically in France and Holland with a major CD release in 2002. The first major third party reissues of the album were via the US-based Norton, which reissued a vinyl version in 2005 and Doxy, the Italian label, in 2009.
The most important related Vincent reissue is the 8CD box set via Bear Family. The Road Is Rocky that also features a beautiful 132-page book. The set includes all of his recordings for Capitol, Columbia, Challenge, Forever/ Playground, Dandelion, Kama Sutra and B&C including previously unissued stereo versions
THE BLUEJEAN BOY
The story of the album, Gene Vincent and the Bluecaps, is also the story of Gene Vincent the man, his ambitions and his band relationships.
Derek Henderson, author of Gene Vincent: A Companion (Spent Brothers; spentbrothers.com/shop), was able to reveal more about the legend and the events surrounding the release of the album.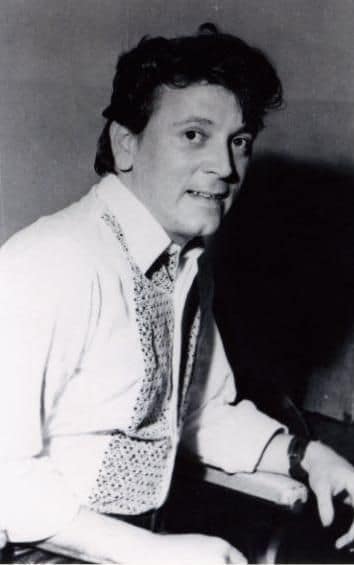 What sort of a man was Gene?
He was a mess. He was shy off stage but he also drank too much and could become aggressive. Dude Kahn, who played drums in the Blue Caps on tour on a couple of occasions told me, when I met him in Dallas in 2000, that Gene would attract the girls to the stage which annoyed their boy friends, then he would taunt and goad those same boyfriends to come round backstage after the show where he and the Caps would, "…beat the shit out of them." I hasten to say that this wasn't something that Dude approved of or entered into.
Would you say that the sound of the Gene Vincent and the Bluecaps album sounds similar to the Bluejean Bop! album?
They were both recorded by the same singer and musicians, except that Paul Peek was playing rhythm rather than "Willie" Williams, in the same studio: Bradley Film & Recording Studio, 804 16th Avenue, Nashville, TN, by the same engineer, Mort Thomasson, under the same producer, Ken Nelson, in a period of about five months after producing successful hit records with the first recordings. These recordings were all cut live in the studio. That is, Gene sang and the band played live together. The songs were recorded live, again and again, until Nelson was satisfied with the results.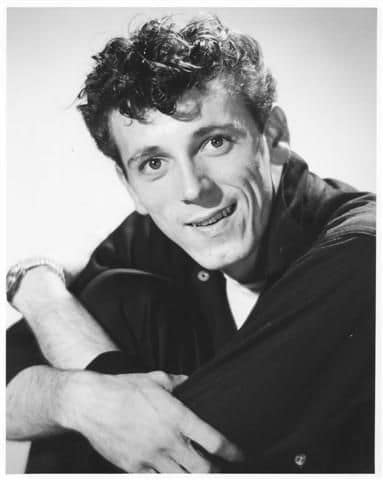 Why did the band break up so quickly after Gene Vincent and the Bluecaps?
Well, Williams and Gallup had had enough months before, so Gene needed a new, permanent lead guitarist. By now, he was much more self-confident and took control of the band, becoming a conscious band leader. Paul Peek took Gene to hear Johnny Meeks play. Vincent liked what he heard and Meeks to join the Blue Caps. Meeks did make a point of telling Vincent that he couldn't play like Gallup but Gene told him he didn't want him to. I personally feel that the later recordings, with Meeks on guitar, are at least as good as the earlier Vincent recordings. They were heavier with a greater rock sensibility.
How aware was Vincent of Elvis Presley and was there any effort, by Vincent, to be more like him?
Gene saw Elvis perform and was mightily impressed by the reaction of his audience. I've always thought that story about Elvis' mother hearing Be-Bop-A-Lula and thinking it was Elvis' latest record a bit rich. I suppose one can say that Heartbreak Hotel and Be-Bop-A-Lula both featured slap-back echo prominently but I don't see any resemblance in the voices. I don't think Gene wanted to be like Elvis but I bet he wanted to be as popular.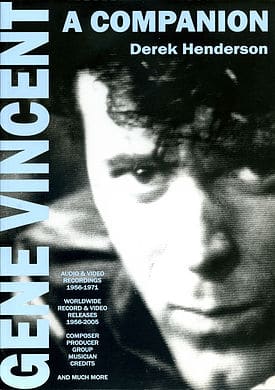 You can buy Derek's book on Gene Vincent from spentbrothers.com/shop