The Article
ADL GT40α (alpha): record and play back at 24bit/192kHz
22nd March 2016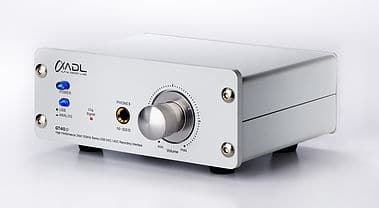 The GT40α (alpha) can record and play back at a bit depth/sampling frequency of 24bit/192kHz – a doubling of the original GT40's 96kHz rate. The outer design has also been tweaked, including the addition of a new discrete red 'clipping' light which warns of digital recording overload, a source of unpleasant distortion. This is used in combination with the new three-position recording attenuation switch.
The system features a 24bit/192kHz A/D converter for recordings via analogue inputs, enabling conversion of vinyl records, cassettes and reel to reel tapes into high resolution digital audio files. In the case of vinyl recording, you don't need to worry about a phonostage: the GT40α includes the requisite input, with switching between moving magnet (MM) and moving coil (MC) or line input. The chassis also includes a headphone amplifier with its own volume control. That very volume control also allows use as a multi-functional digital and analogue preamplifier which can be connected direct to a power amp or active speakers. The ADL GT40α is available now priced at £395.
For more information, click on www.adl-av.com, www.soundfowndations.co.uk or call 0118 981 4238.