The Article
Fostex PX5HS powered speakers: Double The Power
2nd May 2016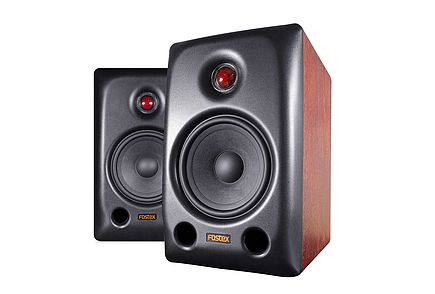 Looking for a budget pair of active speakers? Paul Rigby might just have the thing as he reviews the Fostex PX5HS
I like active speakers. They are so darned useful. They allow a gamut of technologies to be connected to them and they also help anyone who might be suffering from a lack of space in the home, bedroom, office, den, bedsit, flat, etc. The idea that this genre of speaker design is able to remove the amplifier chassis from the equation can be very useful for restricted storage areas. In sonic terms, they do worry me because, while the hi-fi industry is busy separating and splitting components into more pieces (e.g. integrated amps into pre and power, power amps into monoblocks, etc.) here's the active speaker not only sticking them back together again but forcing together two components (an amplifier and a speaker) that, in audiophile terms, shouldn't be together at all. That's not to say that the active design concept is a bad one. It's just that, the designer of an active speaker has his work cut out to get a top quality sound from this unique combo. The sonic problems are mighty but not impossible because there are some pretty good examples of the genre on the market.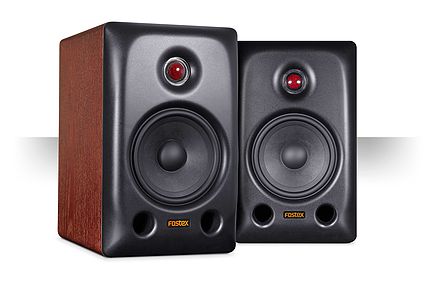 Fostex is but the latest outfit to give the active design a go with this well constructed example. The interesting aspect of this design is this. A lot of active speakers pile the electronics into one speaker unit and then trail an umbilical chord to a dumb second speaker. In this implmementation, all of the controls are on one speaker and only one speaker requires power. The Fostex is not like that. Each one of the PX-5HS speakers needs a power chord because each has an amplifier within. A digital example of 35W, to be exact. Hence, each has a power switch. And, for that matter, each has a 25mm Urethane film laminated polyester fibre dome tweeter tuned with a back chamber plus a 133mm mid/bass cone of Aramid fibre.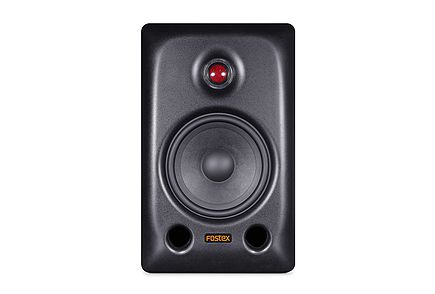 You also get something called a Rotary Encoder for Volume and Tone Controls with LED indication. Basically, this means a small, dual purpose, rotary knob with lights flowing around it in a circular fashion indicating the chosen level. Uneneath is a small switch. Flick the switch to the left and the knob acts as a volume controller. Flick the switch to the right and the same knob becomes a tone control. During the tone control mode, press the knob in and in again to toggle between bass and treble. Two lights illuminate to show you which tone you have selected.
There's an Auto Standby/Auto Operation function for electric power saving and a Fade In function to gradually increase the output level when powering on.
Also on the back, you get a phone jack and a balanced socket combined into one socket (you can use either/or but you can't use both at the same time) plus an unbalanced RCA socket.
I must admit that I was disappointed that other connections where not available. No USB? No opticals?
From the front, the Fostex logo lights up when in operation (and flashes when in standby mode). The design is a bit on the bi-polar side. For example, on the front of the speaker, it says 90s technology glitz and looks like it should be part of an old school boombox: although I don't like it, it's a bit too 'bling' for me. The rear, on the other hand, looks like a DIY electrical boffin's latest wacko project from the 1950s (which, oddly, I prefer although, unfortunately, I can't sit behind the speaker all day, no matter how much I like looking at the rear, that would be rather silly).
Each speaker spans 280 x 180 x 210mm and weighs in at 5kg
SOUND QUALITY
While I had a gripe regarding connectivity, there is still a broad range of options in terms of connectivity for the Fostex speakers so I hooked up a Leema Essentials CD player and started up Bing Crosby's Swanee from the LP, Bing On Broadway. This is just Bing and a small jazz quartet headed by Buddy Cole on keys with Vince Terri on guitar, Don Whitaker on bass and Nick Fatool on drums. I chose this track, partly for the jazz backing which demanded much of the Fostex's incisive abilities but also for Crosby's baritone vocal delivery.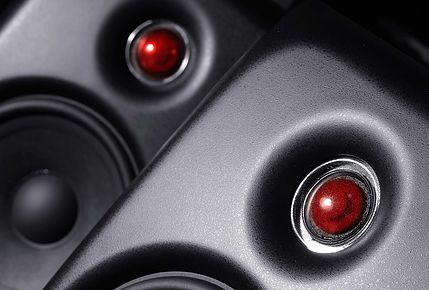 I compared the Fostex alongside my reference Roth POWA-OLi-5 powered speakers which features amplification in only one speaker chassis. This, in fact, was a case in point when listening to the Fostex speakers which sounded very much at ease, no matter how much you pushed them in terms of gain. The Fostex, I believe, benefit from having an amp in each speaker unit which lowers the stress on each sonic frequency.
Despite a certain level of midrange recess in the upper midrange where the piano didn't quite soar in terms of dynamic range, the presentation was comfortably warm and musical. Crosby's vocal delivery was cuddly, friendly and finely textured and bass held a solid foundation, driving the track at an easy pace and drums, although not quite featuring treble pizazz during cymbal hits, did provide plenty of rhythm and lower mid and bass propulsion.
Turning to more high energy fare and Depeche Mode's Enjoy The Silence, a beautifully melodic work from the band, the Fostex loved the bass output, pushing out a heap of lower frequencies with massy, punchy bass kicks that had both power and heft. Despite the restricted upper midrange reach which slightly cramped the work of the support vocals and the twang on the rhythm guitar, the lead vocal offered a warm richness as the soundstage wallowed in a chocolatey, easy going, bouncy, lolling rhythm.
I then moved to a complimentary product and connected the speakers to Fostex's own HPA8C DAC. Into that I plugged in my Astell & Kern AK120 and played Dire Straits Money for Nothing at 24bit/192kHz.
That mastering on this track is a little cool, so the inherent warmth of the Fostex actually balanced out the presentation, making for a excellent rendition of this hit single. The soundstage was appreciably wide while the available detail was good. I can't help feel that, if the balance of the Fostex sound was geared towards a slightly more incisive upper midrange, the Fostex would provide excellent clarity. Instead, the track provided powerful and punchy bass in terms of the percussion while the bass guitar was suitably propulsive. Vocal delivery, although lacking some insight and emotive nuance, was relatively clear and concise. You couldn't fault the sheer musical exuberance of the speakers, however.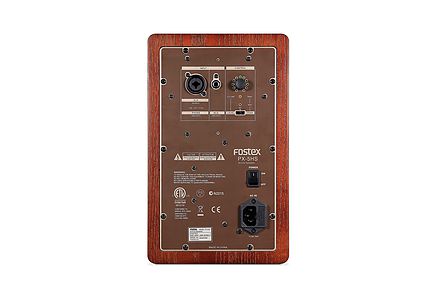 Finally, I turned to Miles Davis' Sketches from Spain and Will O' The Wisp which, again, showed how impressively wide the Fostex sound stage could be. Along that soundstage, Davis' own muted trumpet offered plenty of detail while the background percussion from the castanets were a touch warm in terms of tonal presentation yet offered plenty of energy and precision.
CONCLUSION
The powerful Fostex speakers provide good options in terms of connectivity, although I would have liked to have seen both optical/coax and USB sockets in there somewhere and could easily have lived without the complex tone and volume control. Sonically, the speakers offer a warm, bass rich output that might not be your bag if you major on classical and/or jazz but will reward you with plenty of fun if you love high energy music such as rock or enjoy synth-based electronica: those old Moogs will offer a perfect tone via these Fostex speakers.
---
FOSTEX PX-5HS SPEAKERS
Price: £325 per pair
Website: www.scvdistribution.co.uk
Tel: 03301 222500
---
Good: bass, musicality, power reserves, rock friendly 
Bad: recessed midrange, limited connectivity  
RATING: 7