The Article
Entotem media server has 2TB capacity
21st July 2015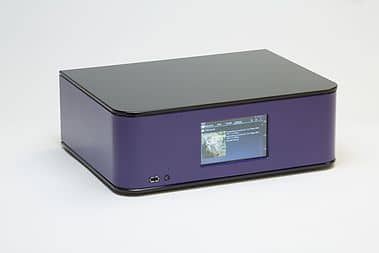 A media server with 2TB capacity and run from Android, Plato is app controlled and able to rip vinyl, CDs and tapes. Vinyl can be played by connecting your existing deck to Plato, which records it to 24bit/192kHz files, the latter are integrated with Gracenote. Hence, your music can be accessed as the track/album artwork is displayed on the front screen either when a track is playing or during a search.
Plato can also store DVD/film formats (converted on a PC first and then transferred by USB to Plato) which can then be either played through a TV using a direct HDMI connection between the TV and Plato or streamed to a tablet or Smart TV using your home Wi-Fi network.
Streaming over the internet is available (e.g. internet radio and Spotify) and you can also access YouTube music videos and view or listen through your TV, tablet or mobile.
Plato can also integrate with other DLNA (Digital Living Network Alliance) systems, such as Sonos, to provide different music in different rooms around the home. Plato is upgradable via downloadable firmware. Price is £3,600.
Click www.entotem.com or call 01332 291972 for more information.