The Article
Emmylou Harris' Wrecking Ball
23rd November 2015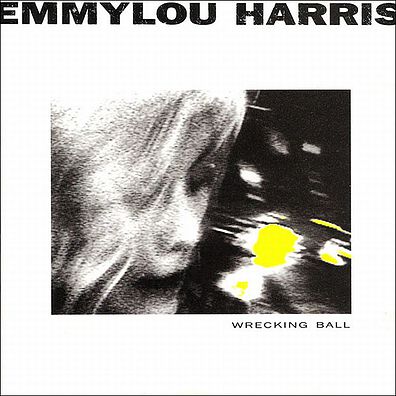 Label: Asylum/Elektra
Year: 1995
"The few people who don't get it are people who think that I should be doing what I did before. But that's confusing to me because I don't think I've ever stuck to just one formula. But I will admit that, as much as I've zigged and zagged over the years, that this was a pretty big zag," said Emmylou Harris.
That was Wrecking Ball, an album recorded live in Nashville and New Orleans with two core session bands consisting of the producer, Daniel Lanois, Malcolm Burn, U2's Larry Mullen Jr., Brian Blades and the Neville Brothers' Tony Hall. The album includes songs by Harris' contemporaries Steve Earle, Lucinda Williams and Rodney Crowell. But the album didn't stop there, it also investigated material by rock icons such as Bob Dylan (in Every Grain of Sand), Neil Young (with that title track) – who lends a hand on background vocals and harmonica – and, of all people, Jimi Hendrix (with May This Be Love).
It was the collaboration with Daniel Lanois that raised eyebrows throughout Harris' country fan-base. Lanois was, in their terms, from a foreign land. He was different, he was strange…he should be exterminated with extreme prejudice. Well, some musos can become quite emotional. For Harris, however, the prospect filled her with excitement, "For me, the collaborative aspect of music has always been a driving force," she said. "You play off of people. I am inspired by working with different people, people who have a different musical point of view, something unique to bring."
Harris met Lanois through his records, principally Lanois' solo album and his work with Bob Dylan on the No Mercy album. From that moment, Harris was hooked. Looking for other works that exhibited the Lanois stamp, she stumbled over albums by Peter Gabriel, Robbie Robertson and the Neville Brothers, as well as U2, "So then, when I was sort of given a green light to work with anybody I wanted, I said I wanted to work with Daniel Lanois," Harris explained. "So some phone calls were made and it turned out he had some time and interest. I didn't meet him in the flesh until we were talking about working together."
The end product of that collaboration was a dramatic change in artistic direction. Emmylou Harris, country's silvery voice visionary, produced her most experimental album to date. The album was dark, it was moody and had alt.rock written all over it. Gone were her trademark rootsy undertones but it remained Emmylou Harris which elevates this album's content over its controversial form. Indeed the content, backed by that unique voice, does Harris a service because it shows what a cracking singer she really is, moving from lower registers to wispy highs. On the title track, she flits over the deep bass-driven drum beats, sometimes almost breathless with emotional anticipation as she asks her partner to meet her at the Wrecking Ball, to "go dancing tonight". Deeper Well has an almost techo-roots beat. Think American Indians invading the drum machine. With a underlying roots vibe, the song, partly penned by Harris herself, moves into a determined folk rock rhythm fronted by a deeper, serious Harris vocal before giving way to Dylan's Every Grain Of Sand, a swaying beat that allows Harris to up the register. On this track her voice transforms into a weather-beaten framework, a vocalised desert floor exhibiting cracks and imperfections.
"It was very comfortable; we just sang and played together," Harris remembered of her studio time with Lanois. "I just basically sort of trusted what he was doing because everything that I had heard him do was so interesting and different but it had the common denominator, which was his sound. Certainly, this is a natural move for me but there is an overall sound to this record that is different from anything else I have done and that is due to the presence of Daniel Lanois. He made it rougher and rockier and a little rustier and moodier and still kept it very musical."
The original CD pressing itself is still generally available and is well mastered. The album displays lots of ambient detail along with a whole heap of memorable low end, featuring a clear, bottom-heavy portrayal of the toms and bass drum. Apparently that lot was recorded using ribbon mikes which might explain a lot. For those with access to a HDCD capable CD deck, grab the HDCD version of this album which improves the clarity and overall focus.
As far as the vinyl format is concerned, there was a vinyl version which appeared on Grapevine in 1995 but I've yet to hear it. Can anyone report on the sonics of this version? I'd be interested to know.