The Article
DMM-edition of Star Wars: The Force Awakens Original Soundtrack & Pro-Ject's Classic turntable
4th June 2016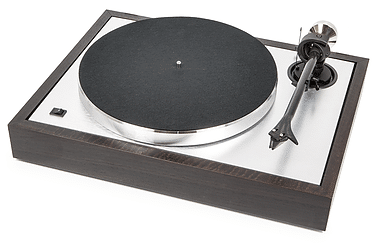 Pro-Ject celebrates its 25th anniversary with a new turntable that bears a resemblance to designs of ages gone by. There are changes that bring the design up to date, though.
The two-plinth design utilises Thermo Plastic Elastomers (TPE) to isolate the sub-chassis, rather than the traditional method of a spring-loaded sub-chassis, the dual-platter layout has been chosen instead of the old cast platters which often suffered from a ringing effect that could colour the sound, the main platter on The Classic is machined from an aluminium alloy which is lined underneath with TPE damping while the sub-platter/bearing assembly combines a hardened steel rod with a bronze bushing that is lined with Teflon.
The configuration is similar to that of a Debut turntable but the tolerances for these components have been improved by a factor of 10 over the Debut Carbon.
The Classic also boasts an entirely new tonearm, designed for this turntable. The Classic Tonearm has a conical tube made from aluminium, wrapped in a layer of carbon fibre and uses a new bearing assembly with Zircon bearings. Underneath, a new Japanese-designed ball-bearing has been installed as has a new nickel-finished counterweight, also TPE-damped. A variety of counterweights will be available for The Classic, supporting cartridges up to 25g. The Classic Tonearm will also be available for sale separately in the future.
The Classic has been designed with a new set of feet which are both dampened and height-adjustable.
The turntable is supplied as standard with the Ortofon 2M Silver cartridge, which has been designed exclusively for Pro-Ject. The inclusion of a junction box on the back-panel also allows for cable improvements as and when you improve your cartridge option.
The Classic turntable is available in Eucalyptus, rosenut or walnut finishes. It is supplied as standard with all necessary set-up tools, a fitted dust cover and Pro-Ject's Connect-IT turntable cables. Price is £799.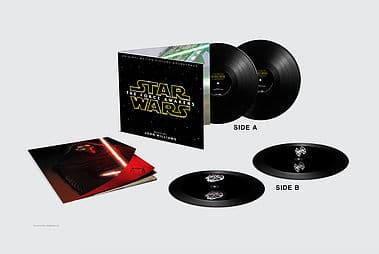 But that's not all, the Classic was chosen to help launch a new, limited, DMM-edition of Star Wars: The Force Awakens Original Soundtrack on vinyl. Universal Music Catalogue and Walt Disney Records will release a hologram double vinyl version. The hologram vinyl will be given its exclusive global premiere in Abbey Road Studios on Monday 6 June, played on the new Pro-Ject Classic turntables.
The score for the vinyl was conducted and composed by John Williams with liner notes by the film's director J.J. Abrams. The 180gm double LP comes with a 16-page booklet while the disc has been hand-etched by Tristan Duke of Infinity Light Science offering a 3D hologram featuring the Millennium Falcon on Disc 1/Side B and a TIE Fighter on Disc 2/Side B. Tristan Duke founded Infinity Light Science in 2008 – a research laboratory with an emphasis on laser holography, interferometry, light-field imaging, hand-drawn holography and relativistic imaging. You just need to direct a light source or mobile phone torch above the vinyl to view the holograms.
Call 01235 511166 or click on www.henleydesigns.co.uk for more information and a sneak peek turntable video at https://www.youtube.com/watch?v=ftmDGTE0s54 plus view the vinyl-based holograms for yourself at https://youtu.be/DLuvkcV2oi4