The Article
Deep Purple: Can You Open The Door…All the Way?
5th October 2016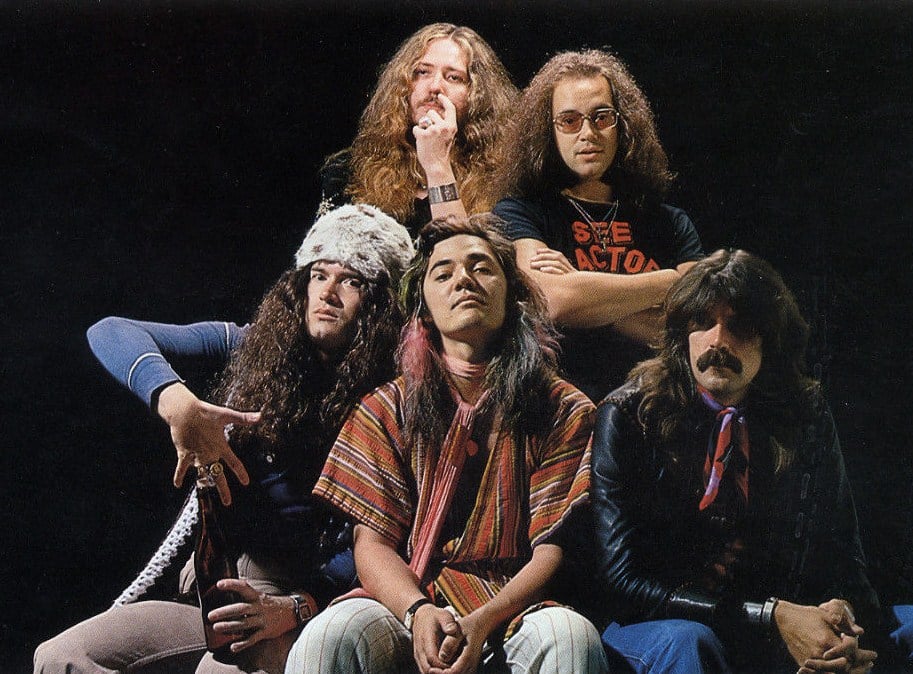 When accruing music in whatever format, do you describe yourself as a collector, a completist or one step away from the edge of insanity? Paul Rigby tries to recognise the signs, in the company of hard rock legends, Deep Purple.
I frequent many record shops, record fairs, charity shops, jumble sales…you name it. In my case, I search for vinyl bargains, rarities or just desirable records. Such venues hold other 'treasures', though
When you go to these places, you get to know people, discovering a community of like-minded individuals plus a range of, what shall we call them, 'characters', let's say. Some are lonely guys who use the hobby to socialise, some are passionate to the point of geekiness, some are budding dealers looking for a quick profit, others are dedicated collectors.
I got to know one chap, a keen collector of Beatles items, and experienced the extremes of his hobby. He had to have anything by the band or band members. Not just the music but memorabilia, ephemera and other collectables, reaching an unhealthy stage as it has taken over his life. Reportedly, just about every square foot of his house is covered with Beatles items. Even the stairs are masked. In fact, you can only open the door to the front room halfway because of Beatles-ware behind the door. Once in the room, you have to wind your way through a valley of Beatles items if you want a seat. This is completism gone mad.
My completism is not on such a grand scale. Though, when I get 'into' a band, I have to have all the commercially released music plus bootlegs from the band, side projects and solo works. It does nasty things to your wallet, let me tell you.
Some bands are worse than others for prompting this sort of psychological behaviour. Longer standing bands with rotating line-ups are the worst: Yes, King Crimson and Deep Purple try the patience and finances of their fans the most.
What can be surprising is just what attracts dedicated collectors and why. Take a single band, Deep Purple: what would interest the completist of this band and why? We'll steer clear of the official albums as every collector already has these.
How about a couple of albums, Look At Me Now (1981) and And About Time Too (1979) on the Hear No Evil label, by Bernie Marsden? Marsden was never a member of Deep Purple, it is true, but both albums featured the likes of Ian Paice, Jon Lord and Don Airey, DP men all. It's a Purple-fest. Similarly, drummer whizz, Crazy Powell's solo outing, Octopuss (Lemon Recordings), features the keyboard talents of Purple man, Jon Lord. If it has the touch of Purple – it has an interest to fans.
Supreme guitarist, Tommy Bolin, stupidly died of a drug overdose at twenty-five and can be found via a number of CD releases including Bolin (2004; Lemon Recordings) but was a member of Deep Purple for what seemed like five minutes, in fact from 1974-1975. He qualifies for the DP collector, though.
Too easy? The James Gang, then? There was a group that was formed without a Deep Purple member in sight. In stepped the boy Bolin, again, after founder member, Joe Walsh, left to join The Eagles so now the James Gang are roped in to the Deep Purple sphere of influence. At least for the brief time that Bolin was a member, the album, Newborn (1975; Lemon Recordings) being a good example.
Let's take it even further then. Remember 'Screaming' Lord Sutch? The guy who headed the Official Monster Raving Loony Party and lost all forty of the UK political elections that he entered? In his time, he was a significant player in the rock establishment and did valuable groundwork for the British Invasion phenomenon. He had a great horror/rock act which featured a steller array of talent over time that included, behind the scenes, Joe Meek and, on stage, Jeff Beck, Noel Redding, Nicky Hopkins, Jimmy Page, John Bonham and, yes, Purple man, Ritchie Blackmore. You can hear them all on Lord Sutch And His Heavy Friends (1970; Esoteric).
Even more tenuous is 1967's The Flower Pot Men (via Listen To The Flowers Grow (2007, RPM)), a distinctive play on words between the children's TV programme and the naughty weed. A British pop group created in 1967, the band's sound featured rich, three-part, vocal harmonies. The recorded band had nothing to do with Deep Purple. Ah, but then there was the live band version which, would you believe, did. Featuring future Deep Purple members, Jon Lord and Nick Simper, the pair were invited to join DP while on tour with The Flower Pot Men, via telegram, in Sheffield.
And this lot is just the tip of a very large iceberg. You could be there forever – and most Deep Purple fans are. Don't forget, that's just the published commercial stuff and music only at that. God help you if, like me, you have a broad and eclectic taste.
But we are not mad hatters. Well, not all of us. We are also archivists, amateur historians and amateur museum curators but, most of all, we are having fun. As long as we can get up and down the stairs and open the lounge door fully there's no need to call the blokes in white. Is there?