The Article
Crystal Acoustics' WiSound Multiroom
21st November 2015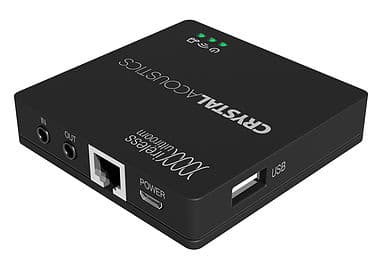 WiSound Multiroom range of products is a series of wireless speakers and complementary devices.
The full range includes the Cuby 9 standalone wireless speaker, the Teevy 6 MR soundbase, Teevy Bar soundbar, WiSub subwoofer, the Tower 5 and Tower 6 floorstanding stereo speakers and the Monitor 1 and Monitor 8 stereo speakers.
One low cost gizmo from the company includes Widaptor that receives your music over Wi-Fi and transmits it to any active speaker, hi-fi setup or microsystem, turning your existing audio products into a wireless system.
You can use any number of Widaptors in parallel, linking disparate audio systems in the various rooms of your home into a single multi-room system in which you can: control all zones from a single handheld device (your smartphone or tablet); listen to different songs in any room, or group of rooms; listen to the same song in any group of rooms or all rooms, all in synchronization plus listen to your favourite internet radio stations, even without your phone/tablet
Connect your Widaptor to any audio system or active speaker, and transmit your music to it over your Wi-Fi network from your smartphone, tablet or laptop/desktop computer.
Widaptor also supports USB playback for you to play music direct to Widaptor from a memory stick or HD storage device. Price is £50.
For more on Crystal Acoustics' WiSound technology visit www.wisound.com