The Article
THE COMPLETE BEATLES RECORDING SESSIONS
24th February 2016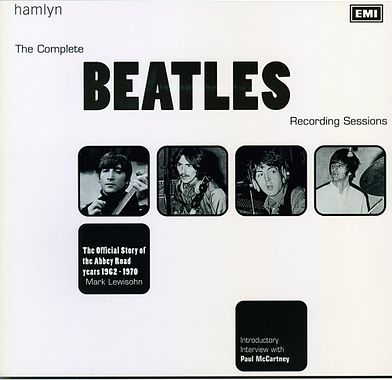 Author: Mark Lewisohn
Publisher: Hamlyn
It might only span 204 pages but this densely worded hardback might just be the most important book that you ever read on the works of The Beatles. It also has enough detail, squeezed within its pages, to comfortably span 400-500 pages of any normal tome or so it seems. Most other publications would certainly provide more space for the included 350 photographs (some in colour) that includes people pics but also images of recording sheets, tape boxes, memos, contracts, memos, press releases and more.
Subtitled The Official Story of the Abbey Road Years 1962-1970 and including an extensive interview with Paul McCartney as an informative foreword, this large format book takes a day-by-day view of the recording career of the band.
For each and every entry, unless it's a live recording, you get a list of where the recording took place and at what time, the songs and takes, the producer and engineers present plus extra information such as early names of tracks. For example This Bird Has Flown was the early title for Norwegian Wood.
There are plenty of insights into the music and the Beatles themselves. For example, Sexy Sadie, written by John Lennon and recorded after the band returned from their sojourn with the Maharishi Mahesh Yogi (the song was, apparently, about him), features lyrics and a verse structure such as:
Sexy Sadie what have you done
You made a fool of everyone
You made a fool of everyone
Sexy Sadie ooh what have you done
The original conception of the lyrics ran thus:
You little twat
Who the fuck do you think you are?      
Who the fuck do you think you are?      
Oh, you cunt
A slightly different approach to the song, I'm sure you'll agree.
There is also an interesting array of unreleased material still in the locker – or in a locker, somewhere, not all of the tapes are in Abbey Road. The Beatles often took them home. This effectively contradicts Paul McCartney's continual assertion that there is nothing left, unreleased, to come from The Beatles. These unreleased songs include just two of many tracks that were recorded on 20 August 1968. Both, ironically, recorded by McCartney. Both Etcetera ("A beautiful ballad," according to Alan Brown, engineer) and Wild Honey Pie, a 53 second, much over-dubbed one man effort (not, nothing to do with the song, Honey Pie) were committed to tape.
It's also interesting to get an Abbey Road staff point of view of the increasing tensions between The Beatles, which were visible by the engineers during the recording of The Beatles (The White Album). That same band tension would lead to established engineer, Geoff Emerick, quitting on the spot as he sat in the control room, next to George Martin, during those same sessions, because he couldn't take the constant bickering, moods and tension.
A fascinating piece of work that benefits from conscientious and diligent research and interpretation, The Complete Beatles Recording Sessions is a 'must have' for any true Beatle fan.