The Article
Clearaudio TT5 tonearm offers a linear bearing
4th May 2016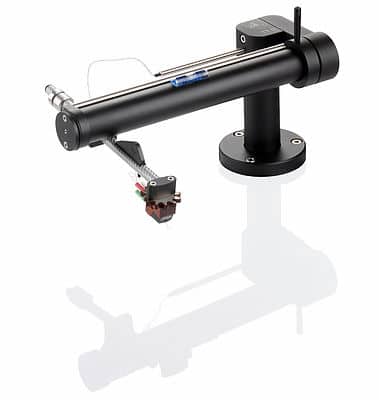 Clearaudio's 'TT' range of tonearms moves tangentially, with the stylus propelling the tonearm along a linear bearing. This bearing comprises a carriage running on rollers along a polished glass rail.
Since the record groove, stylus, cantilever and tonearm are aligned, no side forces are generated and so no anti-skating compensation is needed.
With the new TT5, Clearaudio offers vinyl fans a more affordable entry point into tangential tonearm technology as it has removed one or two of the features of its 'big brothers', the TT2 and TT3.
For example, the TT5 adopts a new, fully rigid design. However, for those who still crave the convenience of the bigger arms' ability to swing out of the way when loading records, Clearaudio has created the optional TT5 swing base which, as it's name suggests, allows the entire arm assembly to be swung out of the way when swapping one album for the next.
Tracking force and azimuth are adjustable. It weighs in at 560 without the arm base (620g with it) and spans 200 x 150 x 140mm. Price is £1,750. The optional swing base is priced at an additional £250.
Call 0118 981 4238 or click on www.soundfowndations.co.uk for more information.