The Article
Chronosonic XVX Speakers From Wilson Audio
3rd December 2019
Designed by Daryl Wilson, son of the company's late founder, Dave Wilson, the WAMM Master Chronosonic features
 upgrades and innovations
So what can we find in this new Chronosonic XVX speaker? Let's take the midrange driver, originally co-developed by Dave Wilson (his last design project) and Vern Credille, the new QuadraMag midrange combines Alnico magnets in a new geometry.
The Chronosonic XVX array is configured using an unusual MTMM (midrange, tweeter, midrange) arrangement.
The all-new QuadraMag driver joins forces with a modified version of the 101mm midrange from the WAMM to form the lower section of the array.
A second QuadraMag midrange driver at the top of the array flanks a Convergent Synergy Mk.5 tweeter, completing the MTMM geometry.
The construction of the Upper Array of the XVX consists of an open-architecture Gantry system constructed from X-Material reinforced aluminum. The Gantry's primary function is to provide a rigid architecture for all the moving elements and modules. The design team paid particular attention to the triangulated cross-bracing and the use of X-Material composites to improve both rigidity and critical damping.
There are also two Micrometer units within the XVX upper array—one for the upper QuadraMag driver and the Convergent Synergy tweeter, the other for the second QuadraMag and the 101mm midrange. In turn, each of those modules is individually adjustable in relative position within the array. This complex mechanism aids time-domain accuracy down to five millionths of a second, driver to driver.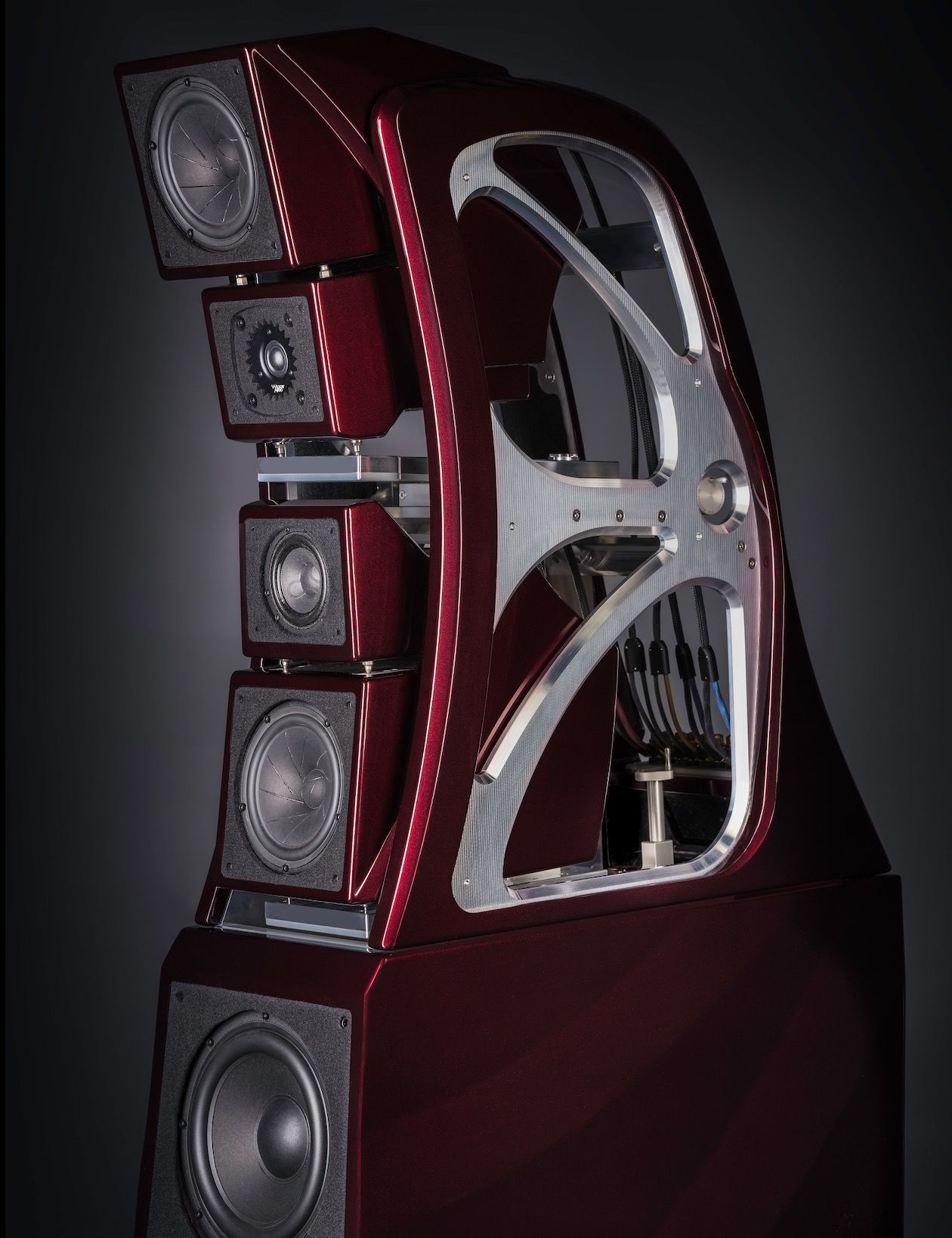 The Convergent Synergy tweeter is joined by a rear-firing ambiance tweeter. For the first time, the rear-firing tweeter will feature adjustable 0dB to minus 37dB attenuation.
Wilson Audio originally developed the 254mm and 305mm bass units appearing in Chronosonic XVX's in conjunction with the WAMM Master Chronosonic project. Chronosonic XVX's woofers incorporate all of Wilson's latest thinking on low-frequency music reproduction.
That port at the base of the front of the speaker is called a Cross-Load system. A plate covers a plug for that (one of two) port. The port in this configuration is on the rear of the bass enclosure.
In rooms where the rear-firing option would tend to overload the bass, it is merely a matter of removing the plate and port plug, switching those items to the rear and attaching the low-turbulence trim to the front, moving the port exit to the front of the Chronosonic XVX.
Like the WAMM, the XVX's cabinets and modules are constructed using a combination of the company's proprietary X- and S-Material composites, and aerospace aluminum.
The crossover housing is now constructed from carbon fibre. An all-new Wilson-designed connecting spades now join Wilson's proprietary binding posts as a unified connection system. The quick-release time-domain adjustment bolts first developed for the Sasha DAW are utilized in the XVX.
Price is £330,000 a pair.
To learn more, click www.absolutesounds.com or call 020 8971 3909.
[Don't forget to check out my Facebook Group, The Audiophile Man: Hi-Fi & Music here: www.facebook.com/groups/theaudiophileman for exclusive postings, exclusive editorial and more!]