The Article
Chord Mojo headphone amplifier: a box of marbles
22nd April 2016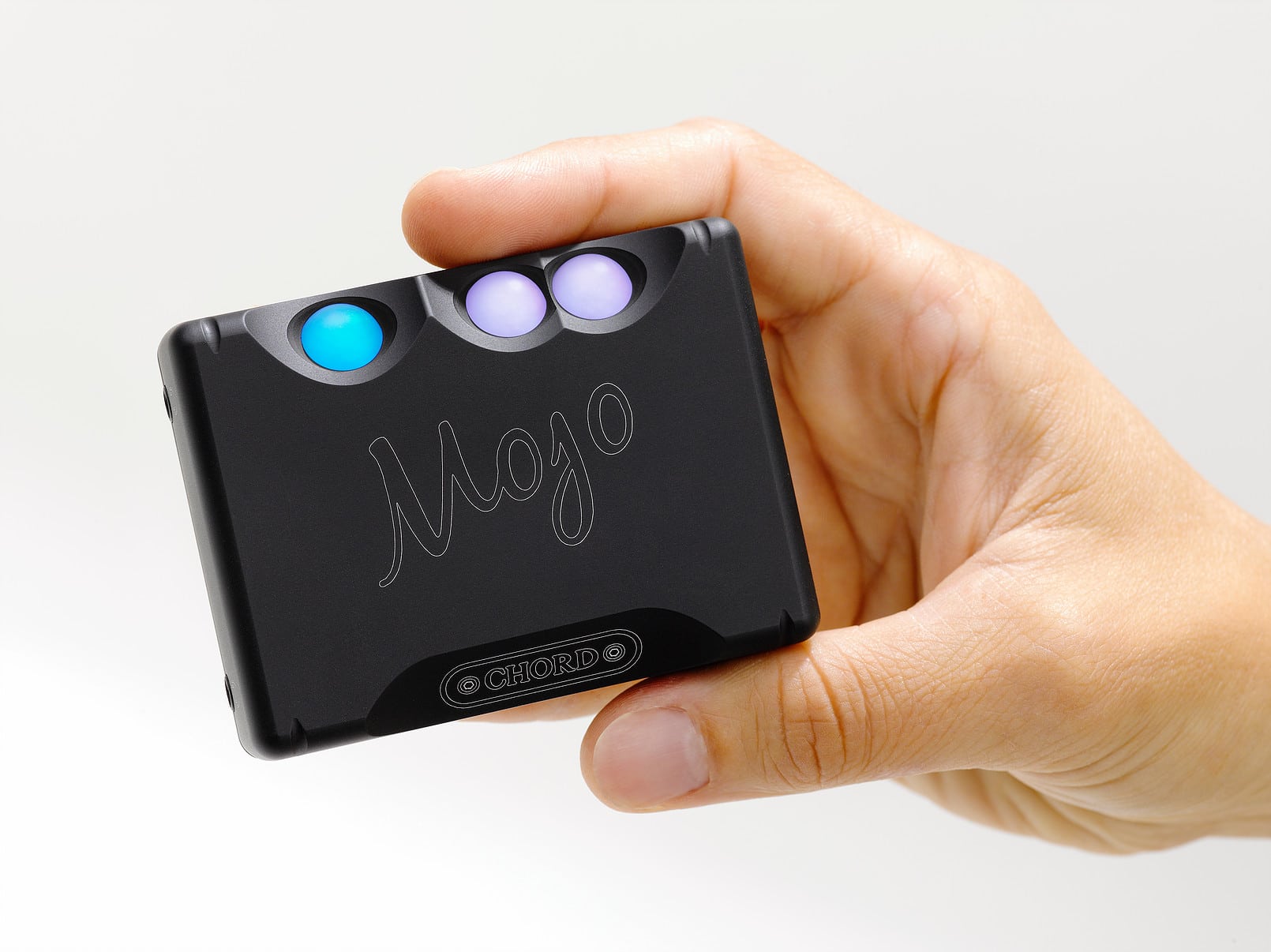 In the market for a portable headphone amplifier? Paul Rigby reviews Chord's dinky Mojo
I love headphones. There, I've said it. I don't care what type they are and what technology they are based upon, I find them a great alternative to speakers, when the mood arises and they are perfect when you don't want to (or can't) disturb others in the house. As a headphone fan, I learnt pretty quickly that, if you want to get the very most from them, you can't go around plugging them into the cheap and nasty headphone amps that you often find bundled as part of an integrated amplifier. You need a separate unit to really enhance the sound quality. That said, now that mobile technology is popular, the novelty of the 'mobile' headphone and accompanying music devices has worn off a tad so that 'quality' is now more in demand. This is what Chord has attempted to provide with its Mojo headphone amp.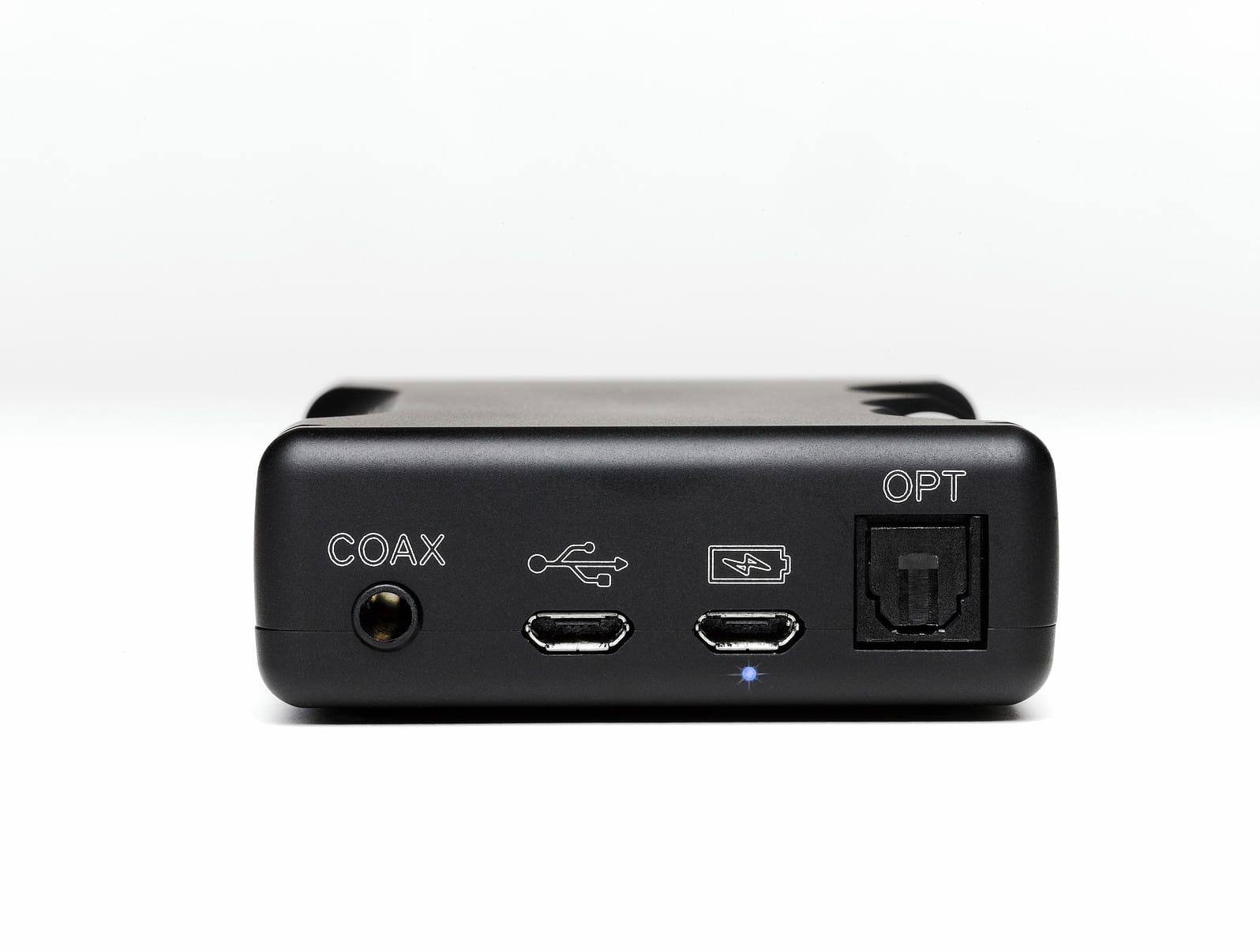 Mojo is short for 'Mobile Joy' (which sounds either like a sex toy or a line from the  Communist Manifesto) and arrives with no drivers (unless you are a Windows PC user: check out Chord's website for those), no instruction manual (they are printed…on the box!) and no wires (except for the little USB charging cable buried in the base of the box which, in itself, is rather Apple-like in tone).
As the box itself says, this DAC supports up to 768kHz as PCM or up to quad-level DSD of the DSD256 variety. Of course, these figures smack of the 'oneupmanship', headline grabbing, nose thumbing variety but they also serve as future proofing.
The chassis packs in a charging mini-USB port (plus associated charging light), optical TOSlink (for up to 24bit/192kHz support), a 3.5mm coaxial jack (up to 32bit/768kHz) and another microUSB port (up to 32bit/768kHz). Spanning just 82x60x22mm it weighs in at a secure 180g.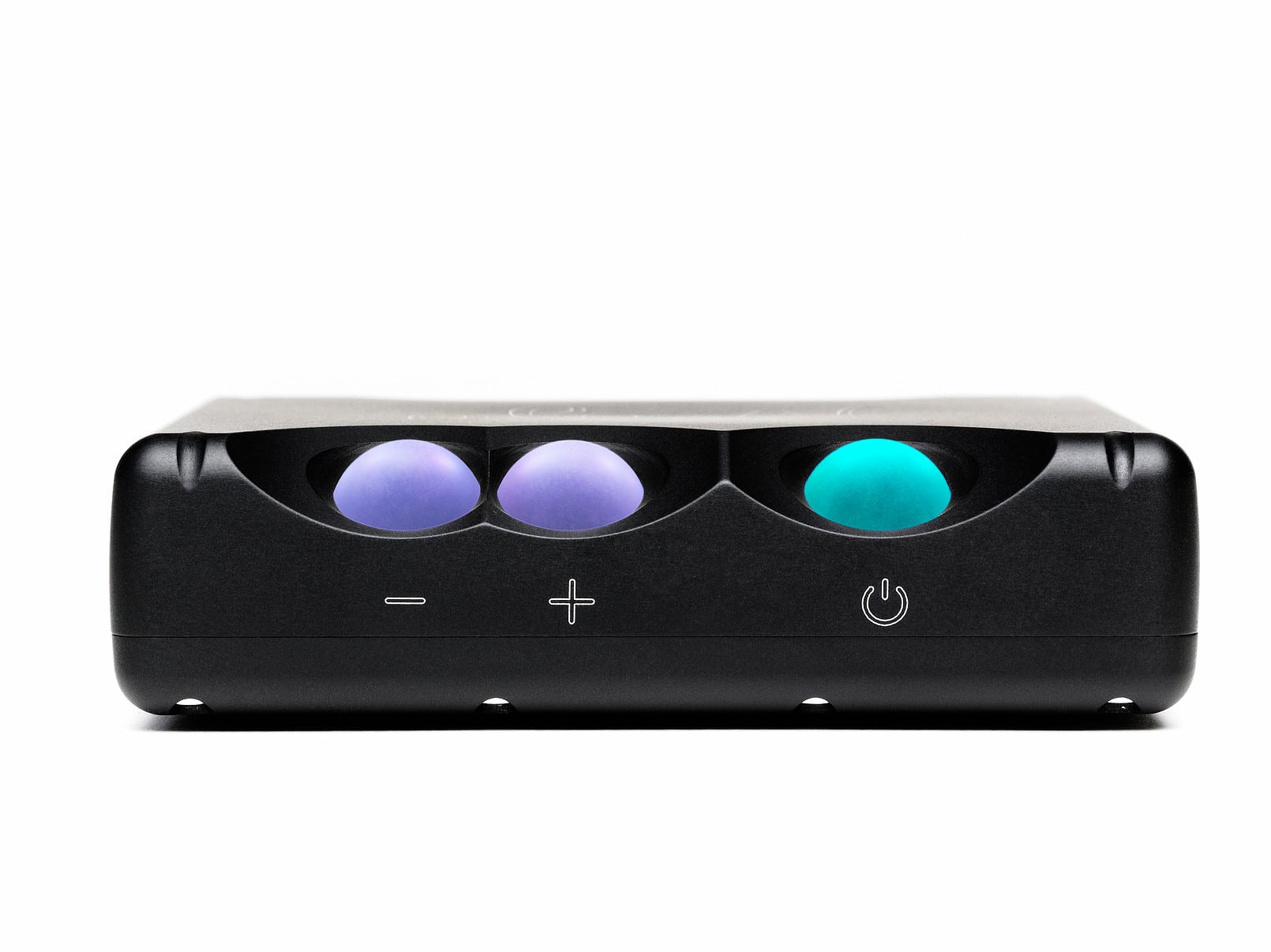 What makes the Mojo…well, Mojo-like, is the interface which consists of three inset glass balls that all light up for various reasons. Press the 'power' ball and three balls spring into life and provide a rainbow light show as the unit runs through a quick self-check routine. Stay away from suspect mushrooms during this sequence. The combination will do you no good.
After that, when you press the up/down volume balls, the lights on these two balls change colour to reflect the changing gain value while the different sound resolutions are also noted in this way. Hence, CD quality is shown as a red colour while 96kHz is more of a bright green and 384kHz is a violet colour.
Inside is a field-programmable gate array (FPGA) chip, in this case a low-power-consumption Xilinx Artix-7, designed by Chord man, Rob Watts.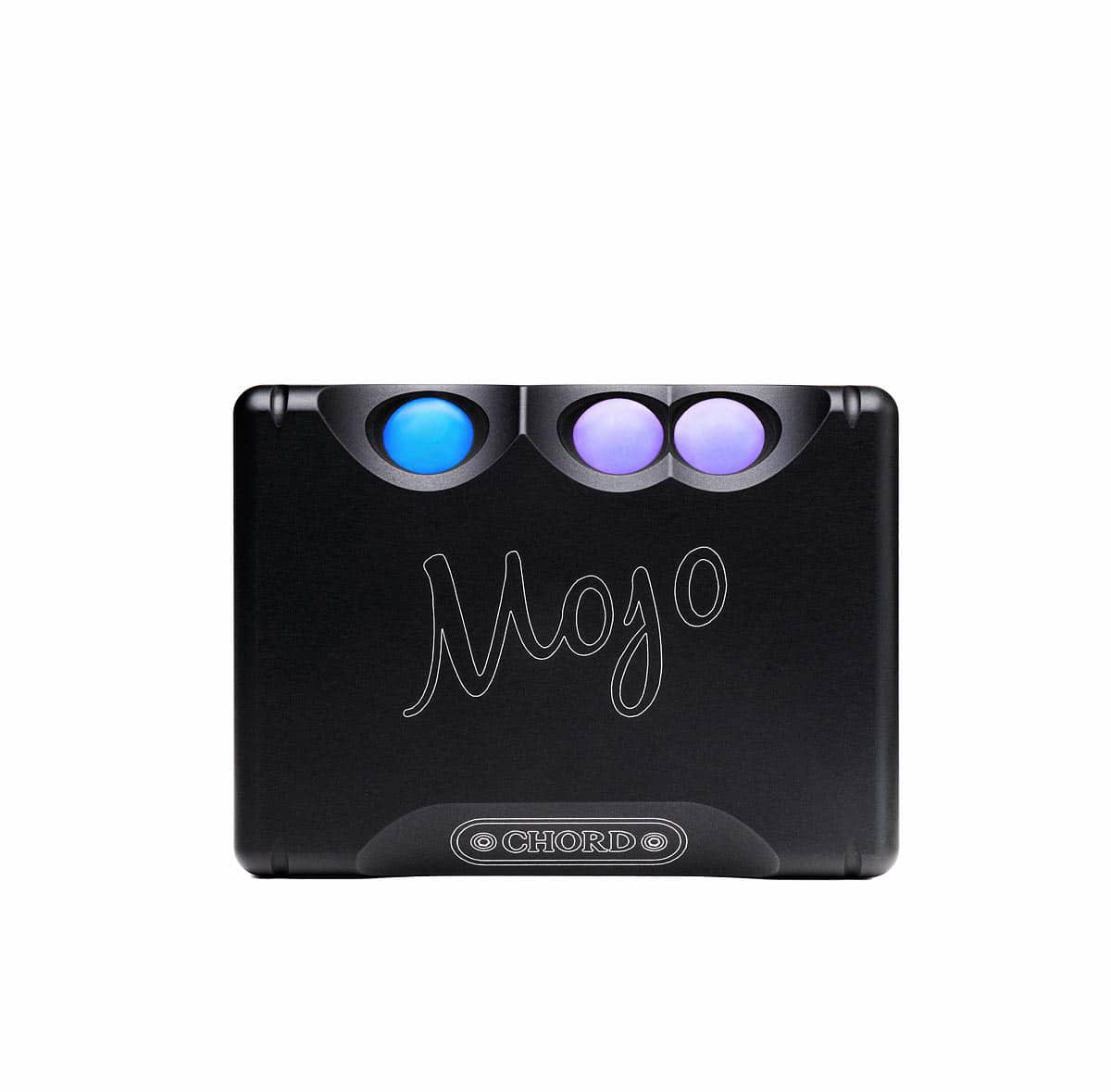 SOUND QUALITY
Over to my Astell & Kern AK120 the and 24bit/96kHz version of Dire Strait's hit single, Money for Nothing. The initial strains of the Sting vocal asking for his MTV, if you don't mind, offered a suitably ethereal beginning to the track with a range of pleasantly separated layering in terms of synths runs.
The introduction of the increasingly loud introduction, dominated by the drums often exposes this track to a certain brittle nature in the midrange frequencies with a bright treble and compression exhibited in the guitar crescendos. The Mojo was quite remarkable during this sequence for two things. Firstly, it did reveal that the track incorporated compression by coating the track with a cool demeanour, especially via the secondary percussion but it did give the music an unusually playable quality that I wasn't used to. I was pleased to hear a rewarding insight that allowed the midrange to reveal subtitles such as the easily heard cowbell percussion, later in the track, while bass was not just hard and almost metallic, it now was far more rounded and massy.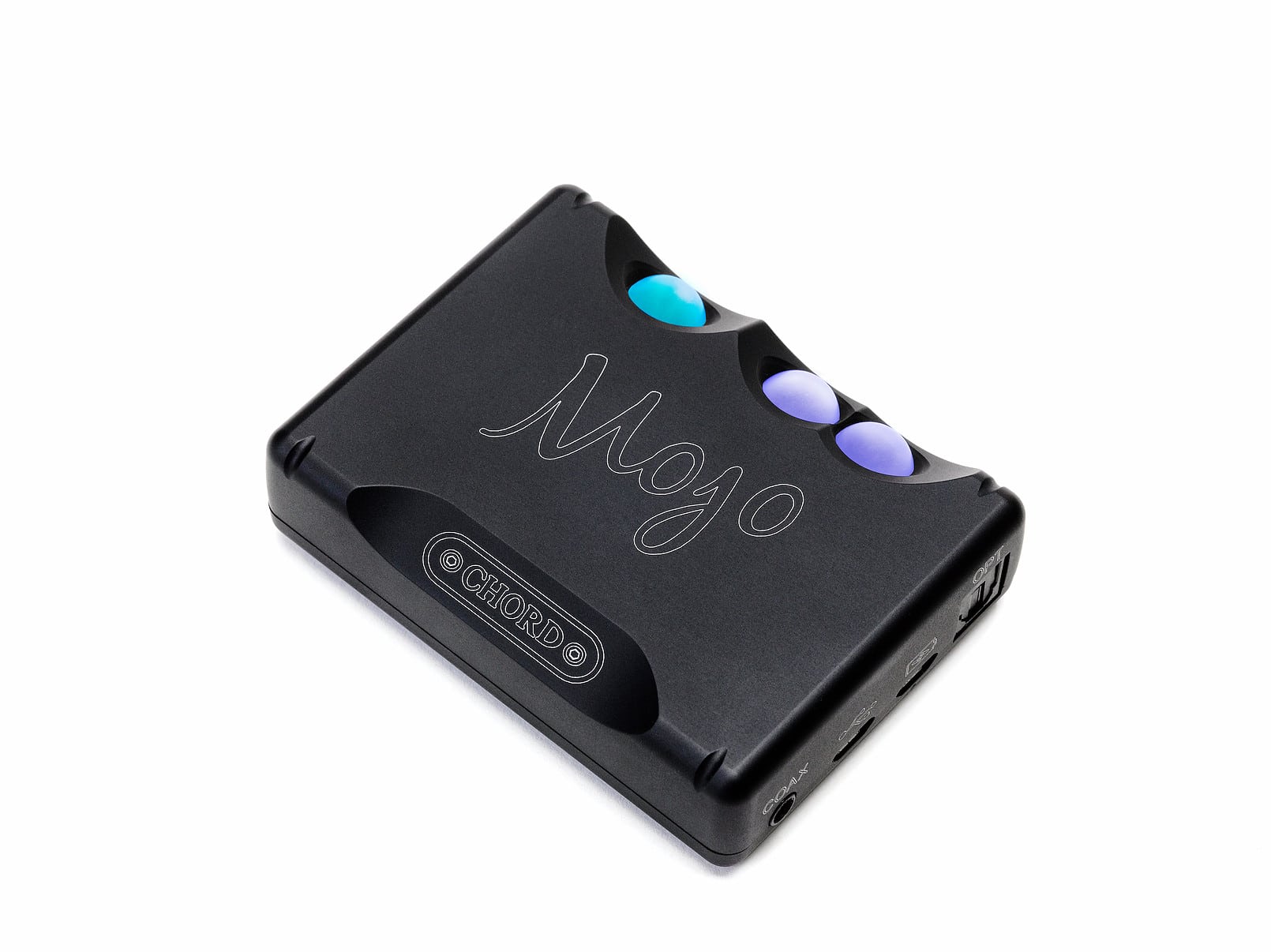 On a similar resolution I then turned to Bob Marley's I Shot The Sheriff, a much better recording which offered a blend of reggae, pop and, at the very end of the track a forgotten dub outro.
This bass-oriented track does, on lesser hardware, introduce smearing and blurring as the technology cannot cope with the low frequency overload. The Mojo easily handled the bass, tracking Aston Barrett's rhythmic bass guitar with aplomb while, even more interestingly, the organ runs of Tyrone Downie were clear and concise that added a new level of richness to the soundstage.
I then connected the Mojo to my SSD-powered MacBook and played Carol Kidd's A Nightingale Sang in Berkeley Square via Audirvana and 16bit/44.1kHz WAV. This rendition offered both detail and, interestingly, pace. The music sped along at quite a trot, such was the nippy transient detail and the tight bass that provided a sprightly rhythm. That double bass feature, at the beginning of the track, was powerful, characterful and textural because, after all, this was all about the resonance of the double bass body. Kidd's voice sang over it in both a warm and emotive fashion while her delivery had an atmospheric, additional reverb that was easily tracked by the ear to produce welcome subtlety and nuance.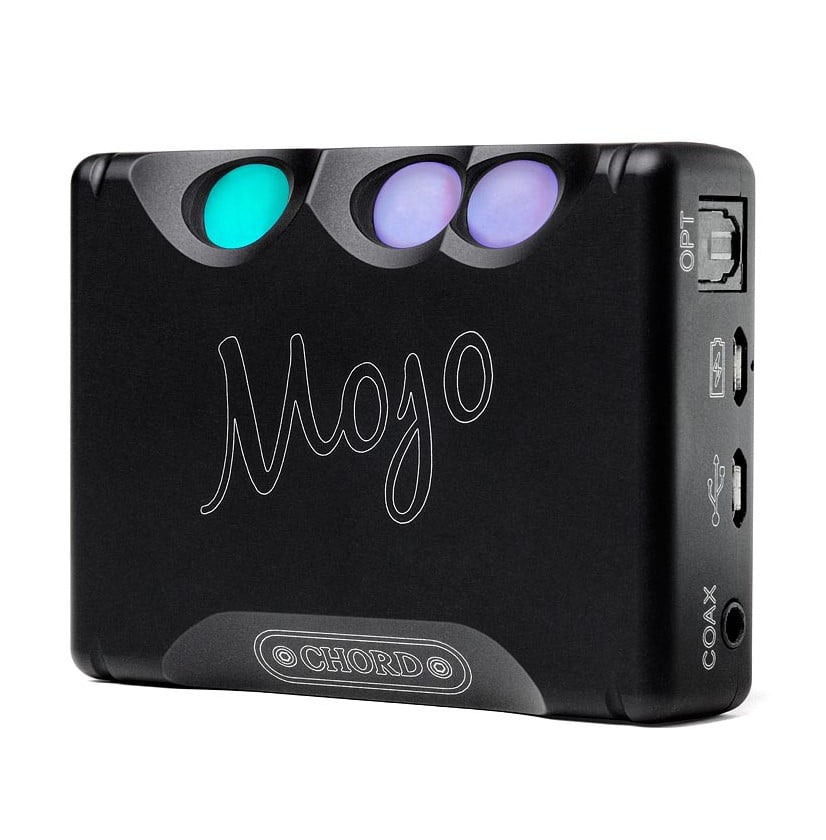 The acoustic guitar solo was precise and detailed which the complexity of the dynamic piano was almost playful in its presentation and the percussion was both clean and concise while the treble-infused cymbals were delightfully open and airy.
I ended my tests on the Mojo by plugging it into my iPhone 6S, via Apple's own USB camera conversation cable, and a pair of Sennheiser HD800s to see if the Mojo offered an appreciable difference when compared to the iPhone's default sound, even on a basic file format like a MP3. If you use a smartphone and listen to MP3s is it really worth the bother to invest in specialist audio hardware like the Mojo? I chose Kylie Minogue's All the Lovers from her Abbey Road Sessions.
There were a range of before/after differences that immediately came into play. Firstly, the obvious. The Mojo offered a lot more gain that the iPhone's own amplifier with plenty of additional power so you get vocals and instruments packing out every tiny corner of the soundstage. This is big…epic, even. Secondly, there is the upper midrange detail which is far more transparent, allowing the backing vocals to add character and a measure of vocal separation. Hence, the backing vocals sounded like a host of people taking part on this one task rater than an amorphous blob. The upper mids revealed more enhancements via the tambourine which now delineated the difference between the sound of the instrument being hit and what happened afterwards. The improvement in the lower registers provided more punch while bass guitar was not lumped into the percussion but separated. And this from an MP3 file? So, yes, even MP3 fans will benefit from an upgrade.
CONCLUSION
While I have an audiophile reference system I do not have an audiophile wife (before you comment, I've already checked the website, there's no upgrade due just yet) but a clue to the unit's future and sustained popularity might draw upon her response to seeing the chassis which was nothing short of "Fantastic!" She thought that the "little marbles" as the control system was "brilliant" while the attendant light display was "wonderful". She loved the contoured chassis and how it sat in the hand. That first impression was confirmed when my wife exclaimed, "I want one!" To be followed after a brief pause with, "What does it do…?"
I receive a gamut of technologies through my door and my long-suffering wife sees and laments over them all ("You won't like it if I trip over that thing and damage it – can't you move it?" and "Can you move those boxes, I can't get to my wardrobe!" are typical). This was the first time that she had actually deigned to actually notice any piece of hi-fi as something verging on the desirable. As a lifestyle device and based purely upon the look of the thing, Chord surely is onto a winner here.
In terms of sound, I have no complaints and can confidently recommend it to both casual users and audiophiles as a suitable solution for mobile music listening. It's easy to hold and store and, while I might prefer the accuracy of a volume knob or wheel as opposed to the rather indistinct little "marbles", they are a small price to pay for such detail and responsive sound quality. A quite superb piece of technology that is feature packed and very easy to use.
---
CHORD MOJO DAC/HEADPHONE AMPLIFIER
Price: £399
Tel: 01622 721444 
Web: chordelectronics.co.uk/mojo/
---
GOOD: general sound quality, general design, ease of use, feature count
BAD: volume control (don't tell the wife)
Rating: 9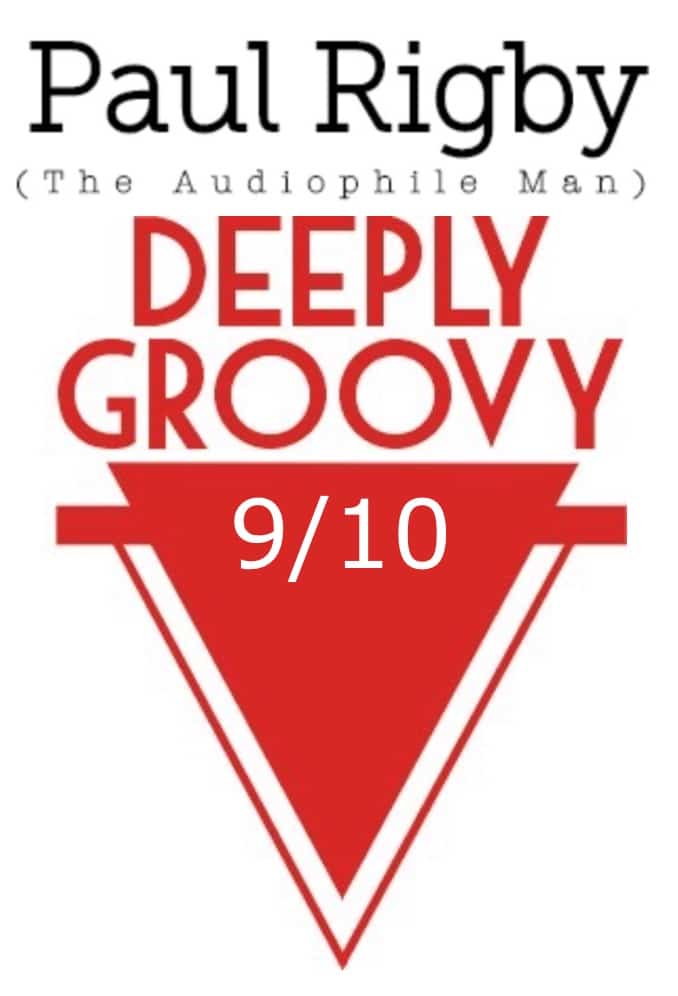 ---