The Article
CHARMED, I'M SURE: the charisma reference one moving coil cartridge
10th July 2016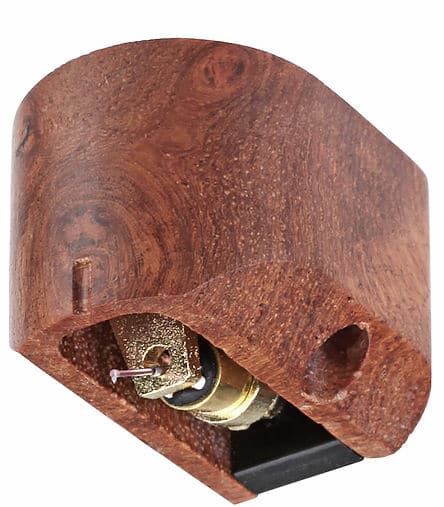 Created in Canada and overseen by company president, Bernard Li, Paul Rigby reviews Charisma's new moving coil cartridge, the Reference One.
Some cartridges arrive with a rather simple plastic chassis while others really push the boat out. Charisma prefers the latter. The engine of this cartridge is surrounded by amboyna burl wood. The same wood that you'll find on the keys of the marimba or, if you prefer, the dashboard of the rather expensive and opulent Mercedes Maybach.
Weighing in at 7.1g, the super fine line contact nude diamond sits on the end of an unusual ruby cantilever (chosen to combine hardness with a light weight to enhance transient response). The Reference One has a pure iron crossed-coil with ultra high purity single crystal copper and operates at a recommend tracking force of 2g.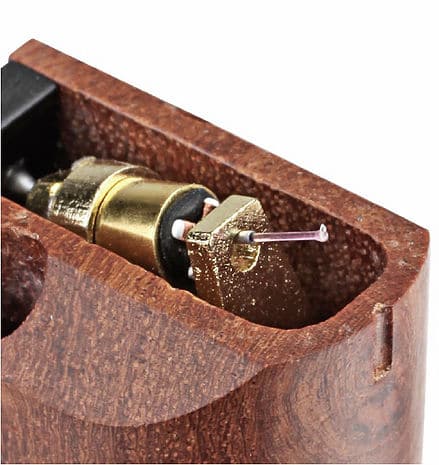 SOUND QUALITY
I began the sound test with a slice of self-titled British psych-rock from 1968 via Mighty Baby, who evolved from the mod rock outfit, The Action. This excellent, high energy, piece includes a touch of compression on the master but the Charisma offered its own problems before I could properly evaluate the music. The Charisma had tracking issues and, playing this rock music at the recommended 2g was rather unpleasant due to distortion. I increased tracking force to 2.3g and the midrange settled down, becoming relatively clear and open. For the first time, I could hear the vocals without wincing.
Once the 2.3g tracking force setting was in place, I began again and found that the Charisma slotted into rock mode very easily. The bass was big, slightly boomy perhaps, but certainly powerful and meaty while bass guitar threatened to shake the windows.
Although the secondary percussion from the tambourine may have lacked a little detail and drums could have been rather more precise, there was a real 'fun' element to the playback on this heavy, all out, monstrous rock track. The smoothly delivered vocals and warming overall presentation certainly confirmed our test results.
For a lower key, more orchestral arrangement, I turned to Ennio Morricone and Metti, Una Sera A Cena. This is one of Morricone's 'straight ahead' productions with an easy presentation, offering a subtle arrangement that requires any cartridge to get to work to dig out as much detail as possible.
Although the strings were a little recessed in terms of their midrange reach, there was certainly an assuring and comfortable glow that was elegantly portrayed by the gently scatting female lead vocal, whose voice was utilised almost as another instrument during the title track of this LP. While the expected sparking detail may have been slightly lacking, there remained an admirable degree of insight that engaged the listener. For example, on Sauna, I was impressed with the detail of the strumming guitar that offered both a richly expressed plucked string effect while giving that instrument a certain degree of grandeur.
Although space and air was not dominant along the relatively wide soundstage, there was enough instrumental separation to allow the orchestra to remain relaxed and at ease, giving the arrangement an easy going presentation without any one frequency dominating or colouring the overall feel of the sonics.
I scouted around my record collection and decided that the Charisma is one of those niche cartridges that does a particular job brilliantly and that job, in my case, was Bruce Hornsby: a well produced album, Scenes From the Southside (1988), a rich and grand piano, meaty bass presentation, a big sound, open vocals without too many upper frequency detail demands. Playing Look Out Any Window at high volume and I couldn't help an exclamation of, "Oh yea, now that's the one." The Charisma just lapped up this music. Hornsby's piano, especially, was rich, balanced in tone, slightly sepia-tinged that added a sense of maturity and reassurance to the sound. Bass was full, big, rolling and wholly musical while Hornsby's vocal delivery was warm, clear and relaxed. Playing this genre of music, the Charisma just flowed with such a musical ease, you couldn't help but move your body to it.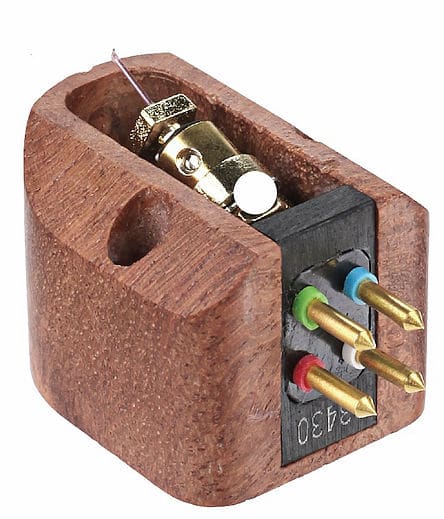 CONCLUSION
The Charisma may need a careful installation and its warming nature may not make it a first choice for the likes of classical and jazz but for rock and especially AOR-related rock plus synth-heavy music, the Reference One will plaster a large smile all over your face.
---
CHARISMA REFERENCE ONE MOVING COIL CARTRDIGE
Price: £1,650
Tel: 01257 473175
Web: www.realhi-fi.com
For specifications, click HERE.
Good: musicality, big bass, rich midrange, warm presentation
Bad: recessed mids, tracking issues, smooth treble, detail
RATING: 6
---
SYSTEM USED
Origin Live Sovereign turntable
Origin Live Enterprise 12" arm
Transfiguration Proteus cartridge
Koetsu Black cartridge
Icon Audio PS3 phonostage
Aesthetix Calypso pre-amp
Icon Audio MB 845 Mk.II monoblocks
Quad ESL-57 speakers with One Thing mods
Vertex AQ & Atlas cabling