The Article
Bowers & Wilkins has released the Zeppelin Wireless
19th February 2016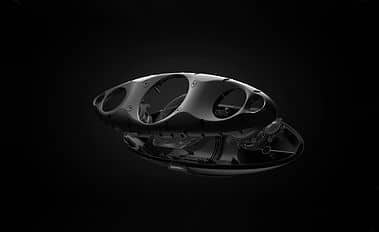 Bowers & Wilkins has released the Zeppelin Wireless. There's the same instantly recognisable silhouette to this luggable unit but every element of the speaker has been redesigned.
Key among the changes are the five new drive units. Zeppelin Wireless features two double dome tweeters as found in Bowers & Wilkins CM Series of speakers, while the two-midrange drivers benefit from FST technology, also found in Bowers & Wilkins flagship 800 Series Diamond. A new, larger 6.5" subwoofer with ultra-long voice coil is included.
The new, reinforced cabinet has also been redesigned in order to provide a solid platform from which the drive units can work along with a front fascia that is 50% thicker than the previous version, offering specially designed glass fibre ribs to strengthen the cabinet.
The Digital Signal Processing (DSP) is now twice as powerful as its predecessor and AirPlayBluetooth aptX and Spotify Connect are featured.
Finally, the Bowers & Wilkins Control App has also been updated and is available via iOS, Android, Mac and PC.
For more information, call 01903 221 500 or visit www.bowers-wilkins.com.