The Article
Blue Aura v40 Blackline valve-based amplifier
5th May 2016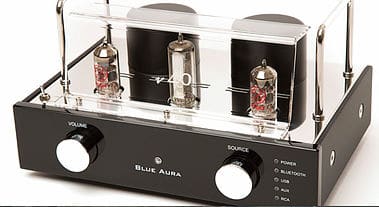 The v40 Blackline is a new, compact, valve-driven amplifier that features a Bluetooth receiver and the aptX Bluetooth codec within, enabling you to connect the unit to tablets and smartphones by Bluetooth but also CD players (and a turntable via a phono amp) by RCA Auxiliary and PCs and laptops using the micro USB.
The toridal-backed 30W amplifier uses two ECC82 valves with a 6e2 volume indicator valve, supplied by JJ Electronics.
Also included is a remote control plus cables. Spanning 148 x 264 x 215mm, the amplifier weighs in at 3.5Kg
An optional extra is the pair of ps40 passive loudspeakers (£TBA) and Blue Aura sub-woofer, known as the xSub (£259).
Price is £449.
To learn more click on www.blueaura.co.uk/v40-blackline or call 01480 477738.