The Article
Ben Folds Five: Rock In A Brick
13th August 2019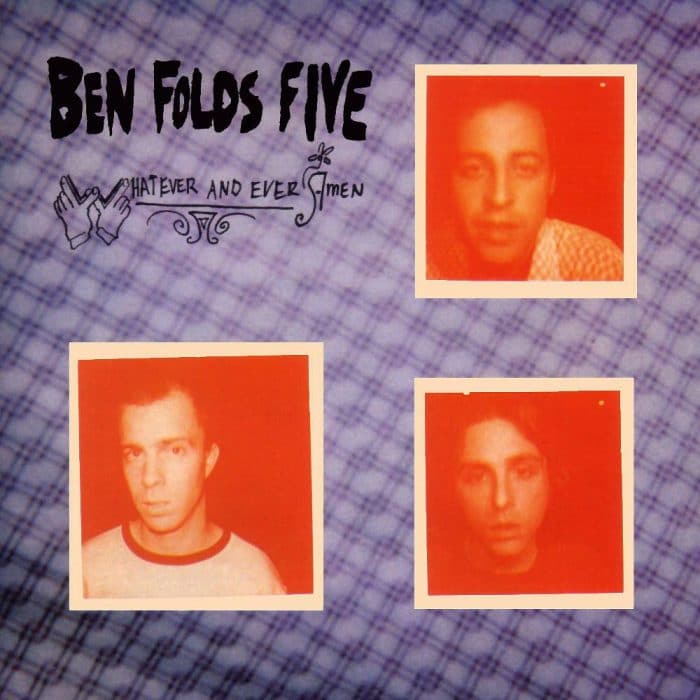 Title: Whatever and Ever Amen
Label: Edsel
Well, not five exactly. Three. Just the three. Ben Folds himself plus Robert Sledge on bass and Darren Jessee on drums. They were witty, cute, cheeky, sometimes outrageous and cuttingly sensitive. The band didn't last that long, to be honest. Releasing its first album in 1995 and disbanding in 2000. After that, Folds has journeyed on a long and complex solo career.
Some people prefer the band's debut release of 1995 but I have a soft spot for this second album, released two years later. There is something light, bright and breezy about it. There's a carefree, relaxed, sometimes Beach Boy-esque feel to the album. If not always in vocal harmonies then of tone and direction. There's also a little bit of Joe Jackson in there and not because there's a dominant piano in the middle of the songs. Just listen to One Angry Dwarf and 200 Solemn Faces and hear that distinct tonal slur of Jackson with jazz cues all over the place. 
There's also Elton John in there too. John is a big inspiration, in fact. As Folds said, "[John] had a lot to do with inspiring me to want to play piano in rock music. If it hadn't been him doing it I don't know who else really was. He kinda made it 'OK' to play the piano if nothing else. The guy's written some great songs." 
Also liberally sprinkled throughout this album are the pop hooks which drag you into each song and keep you pinned to the soundstage until the next passing song demands you keep your seat. The hooks are not everything, of course, they're a bonus. The real point of this album is the song-writing. Carefully crafted and perfectly arranged with a lightness of touch that never hints at over production. Far from it, the songs here sound freshly created. In fact, the album has an almost spontaneous aspect to it. 
Oh, and there has been comment around the internet about one or two sudden stylistic and artistic twists on this release. For example, Song for The Dumped has come in for criticism for being misogynistic. The song is about being dumped, the singer's emotional outburst reaction to the action and his flailing, spontaneous, rather immature and largely ineffectual methods of striking back in a verbal sense which appears to make no real difference to the situation. I'd call that a study of human relationships and failings. Not misogynism.
There are also extremely personal and sensitive explorations on the album. Brick for example, derives from a real high school affair that lead to an abortion. As Folds stated to Billboard in 2015, "Abortion is a total trigger point for me. I don't like talking about it. I wouldn't have spoken about it in that song but as Randy Newman says, 'I would run over my grandmother for a song.' If the melody is telling me this is what the song is about, then I'm sort of forced into confession, autobiography or fantasy. If I don't do that, I've hamstrung the melody."
It's interesting that Folds, as a person, is private in how he interacts with society. He doesn't walk around telling his life story to all and sundry and sharing the intimate elements of his life to strangers. Apparently, though, he needs to get this stuff off his chest. So he does it through his art, "The less I talk in bars, write emails, express myself in an emotionally lewd way outside of my songwriting, the more I have to do it through my music," he said. "I've gotten to the point where I realise that I need to tell my truth in music and not walk around blabbing my mind."
This album, nicely mastered, can now be found within a large box set from Edsel called, rather prosaically, Brick. Because the packaging looks like one. Subtitled The Songs Of Ben Folds, 1995-2012, the set features 13 CDs and includes this album plus the four other Ben Folds Five albums (including 2012's comeback album, The Sound of the Life of the Mind), all of Folds' solo albums (up until 2012), live recordings, B-sides and other bonus material. The box set also includes the 2002 Ben Folds Live album, the live album Songs For Goldfish which accompanied the 2005 album Songs For Silverman, the alternative Seeds versions from Stems And Seeds. The sleevenotes include a new interview by Paul Myers. 
[Don't forget to check out my Facebook Group, The Audiophile Man: Hi-Fi & Music here: www.facebook.com/groups/theaudiophileman for exclusive postings, exclusive editorial and more!]