The Article
Average White Band's AWB
23rd March 2016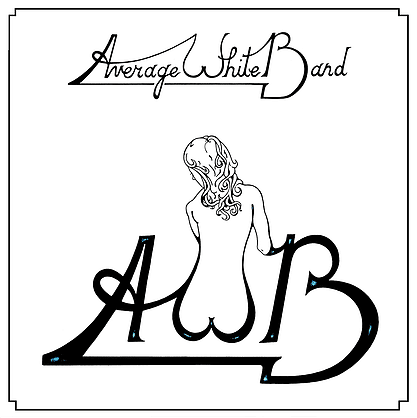 Label: Atlantic
"We were in the process of making that second album for our first label, MCA. Went to their office in Los Angeles and they turned us down, turned the record down and almost turfed us out. We then played those same tapes to Atlantic's Jerry Wexler and he signed us up on the spot. We then went on to remake the album for Atlantic and Pick Up The Pieces became the big, worldwide, hit," said band member, singer/bassist, Alan Gorrie.
And how MCA must have been kicking themselves. It's been done before, of course, witness Decca and The Beatles. This was one mistake the MCA regretted.
"Actually Wexler was having a small party with a friend in the Hollywood Hills. Our road manager, Bruce McCaskill, who'd worked with Eric Clapton, he knew Jerry Wexler very well. We crashed their quiet party that night. To get to Jerry Wexler and to be signed by Atlantic was actually one of the original dreams of the band. Not so much because of Wexler but Atlantic had half of the records that we all loved, on that label."
Atlantic was, at the time, a major force in soul, R&B and funk but the Average White Band fitted in perfectly. Which was interesting because just about everyone on that label and everyone who heard their major hit, Pick Up The Pieces, were convinced that the band was black. Not so, this was a white band…from Scotland, of all places.
"The band was drawn from all over Scotland," said Gorrie, "but formed in London. We'd all met in a little jazz/blues club in Perth called the Blue Workshop and that's were I met Onnie and Roger. I was at the Dundee Art College and met these guys through that situation and Robbie, our drummer, who came to that same club, the Glasgow guys did the same. When everyone had finally moved to London that's when we finally decided to get together in the Summer of 1971."
The band quickly moved to the USA, were signed to MCA, produced a debut LP that did very little and then, after moving to Atlantic, broke with the second LP release, AWB.
"We kind of heralded the disco era," said guitarist, Onnie McIntyre although we were never a disco band. To be honest, Pick Up The Pieces really started as a hit in the clubs and then it crossed over into radio and chart success."
The band did experience tragedy when drummer, Robbie McIntosh, died of a drug overdose, "We were in Los Angeles at the time and it was just a devastating thing. Fortunately, Atlantic Records were very supportive and helped us get through it. They said 'You gotta get back into the studio and record again. You gotta find a new drummer.' Fortunately, Steve Ferrone was in Los Angeles at the time and he had recently been to some of our shows in Los Angeles that week. He was a friend of Robbie. He was obviously the natural choice."
The album itself is filled with stylish tracks such as the gutsy Person To Person that has a Tower Of Power-like funk vibe. In fact, while Pick Up The Pieces was the major hit, there are host of tracks here that should have been too. You Got It demands repeat plays while Work To Do picks up where the Isley Brothers left off.
The album can now be found in its original vinyl format and very nice it is too. Fans of CD can find the album within a magnificent and reasonably priced box-set that packs in 19 CDs including all of the officially released albums plus alternative tracks, rarities and mixes and a fifty-two page booklet including interviews.
"The idea for the box set was floated by Demon Records, last year," said Gorrie, "and I think everybody was sort of relieved that somebody had finally come to the table with a proposition to do a proper retrospective of a lot of music. It's only in the compilation of it and working with the record company that I been shocked by some of the things that I'd forgotten about while helping to keep everything on track. I never thought, when we started, that we'd have the chance to make that many records. It's fair to say that, when record companies were fronting the money to make records, unless you had a degree of success, time after time, you didn't get to keep making records. We must have done something right."