The Article
ATACAMA ERIS ECO 5.0 SPECIAL EDITION
3rd January 2015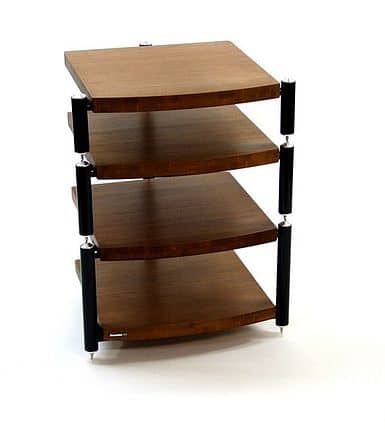 If you have read the review of the Hush but just don't have the budget, one viable option for hi-fi users looking to improve sound quality and not just basic shelving is this model from Atacama
The Eris Eco is built from a high density carbonised bamboo resin composite material and handmade, fully welded, powder coated steel frame modules fitted with mini isolation gel pads designed to decouple the framework from the supported bamboo panels. As well as high gloss black and cesium paint finishes for the frame and a choice of natural, light oak or dark oak finishes to the bamboo shelving are available.
I reviewed the Special Edition that features an upgraded spike isolation system fitted to the legs of each module. While the standard Eris Eco has plastic press-fit upper and lower cone inserts for the leg isolation spikes to interface with, the Special Edition version uses an upper aluminium cone/ steel connecting stud/ lower aluminium cone system, designed to channel any residual resonance through the cones and studs which is then dissipated through to the floor.
Soundtests began with my Avid Acutus turntable and the vinyl version of the Grandaddy track, 'He's Simple, He's Dumb, He's the Pilot' which promoted an open midrange presence over an airy and spacious soundstage plus a good deal of focus within the stereo image.
Yes, there was a slight lift on the upper extremities of the mid range but, despite this, the rack showed plenty of control along with a structural arrangement of the soundstage reducing the diffuse nature of the sonic boundaries. Treble was light and airy while bass was strong and weighty.
In an effort to increase the isolation, I sought out a set of Blue Horizon Spike Shoes (£25 for a set of four) and placed one under each of the three legs, sitting under the spikes. This calmed the slightly forward upper mids, giving the presentation a much more soothing presentation and focusing the bass further.
Moving to my Densen B-475 CD player and playing Bing Crosby's 'Mandy', his vocal delivery linked in to many lower frequencies that allowed the rack to show an admirable control and focus, retaining the Crosby resonance. Despite a slightly expansive presentation to the bass, there was no appreciable bloom within this area. Upper mids, represented via piano, were lively and vigorous with an admirable lightness of touch that kept the song moving at the rhythmic pace.
Don't expect miracles in sound for this sort of price and this type of design. It does a job and does it well. In fact, it's a great value rack that, for the price, offers an excellent sonic performance including tight and efficient bass with a controlled midrange. 
---
Contact: 01455 283251 store.atacama-audio.co.uk
Price: from £600 (offering four support levels)
RATING: 7