The Article
NAD M32 Master Series amplifier and M50.2 Digital Music Player
30th April 2016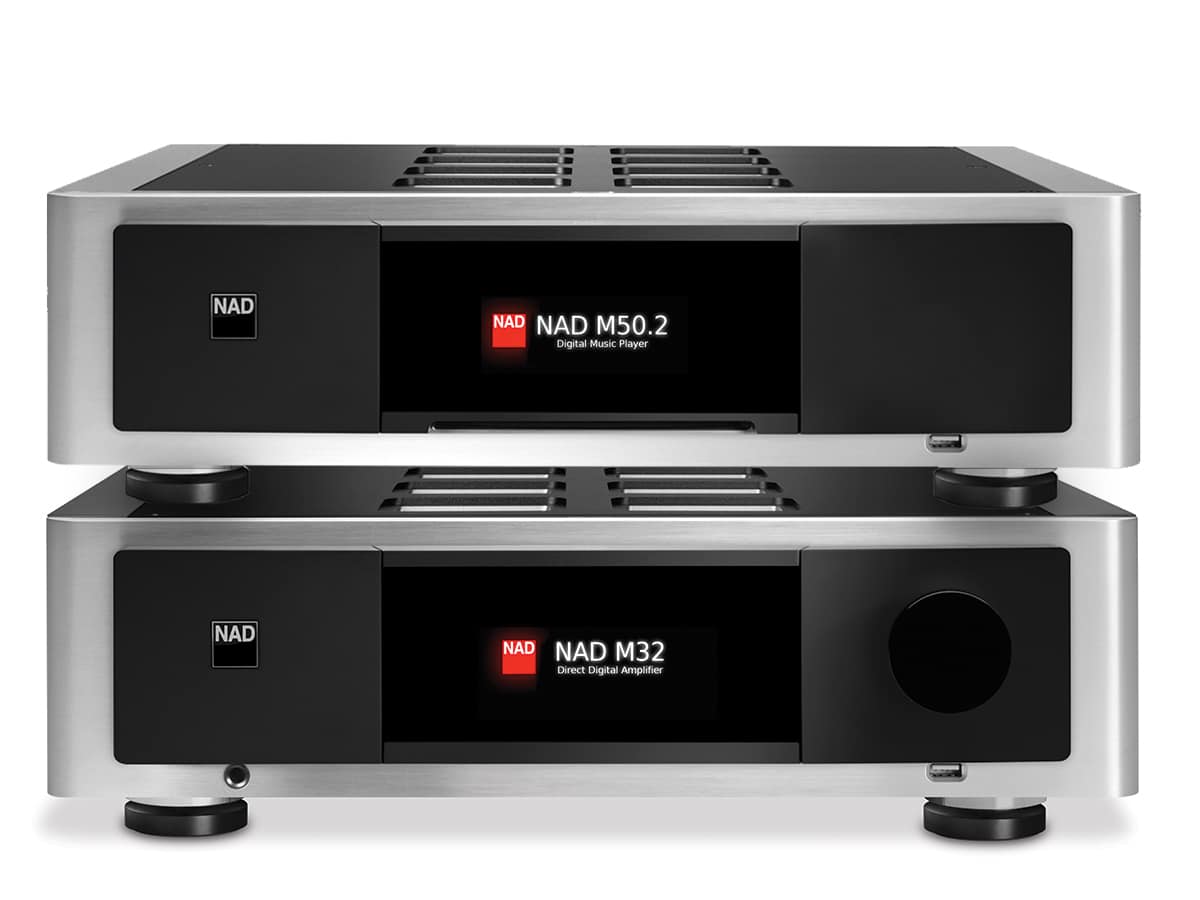 NAD has announced two new additions to its Masters Series. The M32 Direct Digital Amplifier is a BluOS-ready integrated amplifier, including a phono input and a dedicated headphone amplifier. The M50.2 Digital Music Player will offer high resolution music listening, multi-room wireless streaming to other BluOS-enabled speakers, 24bit/192kHz storage and CD ripping.
For the M32, Direct Digital amplification combines all pre-amplification and power amplification functions into a single amplifying stage. With 150W on tap, the M32 is computer controlled and amplifies entirely in the digital domain, converting to analogue at the speaker terminals. You also get four MDC (Modular Design Construction) slots with three for customisation and expandability and all are 24bit/192kHz capable.
The M32 is multi-room and high-res ready with the optional a BluOS module that can occupy one of the MDC slots. BluOS is NAD's operating system for music management and control that includes support for local NAS drives and internet streaming audio services like Spotify, Tidal and many others. You can control BluOS with any smartphone or tablet and can take advantage of third-party control system integration. NAD products are fully compatible with Bluesound Wireless Multi-room systems.
On the output side, there is a dedicated headphone amplifier with a ¼" jack on the front. Around back, the rear panel hosts two sets of speaker outputs capable of bi-wiring and a subwoofer output with a configurable Digital Crossover.
The M50.2 Digital Music Player is an upgrade on the company's M50, introduced four years ago. It can network music throughout their home via digitised and centrally stored music that is made available to other BluOS-enabled components.
You can rip CDs into 24bit/192kHz storage (although why you would want to do that to a 16bit/44.1kHz disc, is anyone's guess), stream from a cloud service or plug in an existing digital music library from a hard drive. Features include Wi-Fi and Ethernet inputs, automatic ripping of CD to the internal RAID of two 2TB hard drives, CD play back, decode to FLAC, ALAC, MP3, WMA, AAC and OGG, AES/EBU, Coaxial, Optical, USB (front and rear) and HDMI outputs; front and rear USB inputs, RS-232 for external control, IR in/out, IR remote control, TFT touch panel display, Bluetooth AptX and software upgrades.
Price with be £3,700 each.
For more information, contact www.nadelectronics.com