The Article
AK Junior – Where The Magic Begins? The Company's low cost DAP
24th March 2016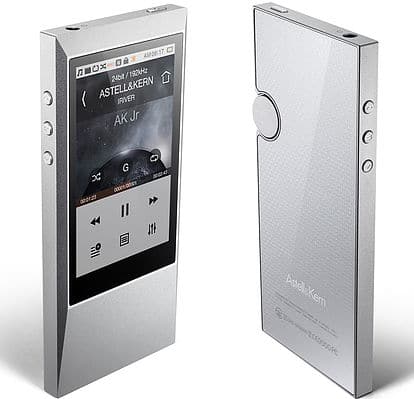 Oh, OK I pinched a Disney Junior tag line but that's basically what Astell & Kern is saying about the new Jr. Paul Rigby reviews and sees if it measures up
Design-wise, the Jr is a svelte DAP, unusually svelte for an Astell & Kern machine which is known for its bulky, brick-like and often angular chassis formations. The Jr, though, almost has a phone-like configuration with its tall, portrait form, 3.1 inch WQVGA touch screen and button lay-out. It's light too at just 93g instead of the 177g for the AK120 II, for example. I also like the positioning and orientation of the volume wheel which is set horizontally flat against the aluminium chassis and rotates clockwise/anti-clockwise instead being vertically set as the AK120 II.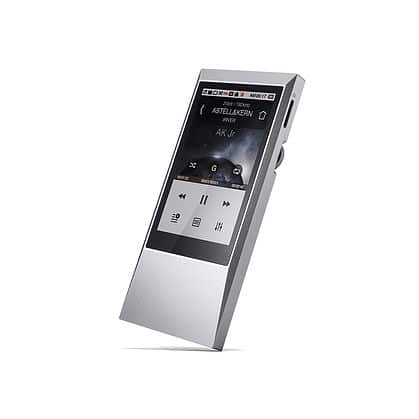 Other specs include a Wolfson WM8740 DAC, Bluetooth 4, support for up to 24bit/192kHz, FLAC, WAV, ALAC, AIFF, DSD, DSD64, microUSB input and 3.5mm output. Measuring 53 x 117 x 8.9mm, it arrives with 64GB of internal memory with a microSD for external storage.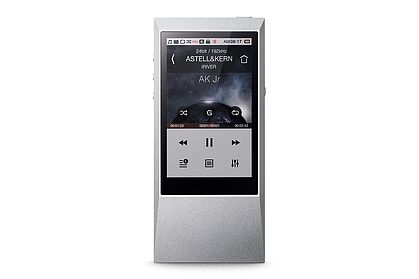 What troubles me a bit is the price and attendant facilities from the Jr. When compared to other DAPs, the Jr struggles a bit to compete but Astell & Kern does have a deserved reputation for top sound quality. In order to test this area, instead of bringing in a competing DAP, and there are a lot of them, I thought that I'd compare it to…itself. Well, in a way. I brought in a standard issue, first generation, Astell & Kern AK120 (it features the same DAC as the Jr). I've always considered this DAP as the best of its type on the market. Partly because of the facilities and options available but also because of the (relative) bargain prices that they now fetch. During this review, I saw two examples at just under £500. That's only £100 more than the Jr while the AK120 offers much more in terms of flexibility, storage and connectivity. The Jr might be slimmer with a larger screen but it's the sound quality that I'm interested in. So that's where I headed.
SOUND QUALITY
I began the tests by using the Jr as a straight DAP, plugging in a pair of HD800 headphones and playing Miles Davis' Will O' the Wisp from the LP, Sketches of Spain at 24bit/192kHz.
I found the Jr rather cool in overall tone. Despite the upper mids being rather thin and lacking in maturity, the music felt swift and face paced. Trumpets may have lacked a rich undertone that added to their 'brassy' nature but they were also sharp and pronounced, never smudgy or indistinct. There was a risk of stridency that really hit during moments of crescendo but this also found the Jr offering a lot of precision which meant that identifying individual instruments was easy. The character of the bass was slightly indistinct while the bass weight struggled to maintain its performance throughout but, because of the rather clinical nature of the sound, did produce a rather shiny, punchy effect.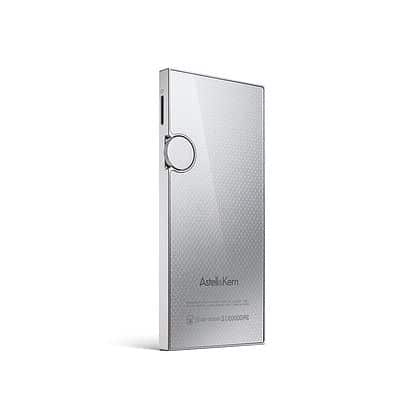 Moving to Dire Straits' Money for Nothing at 24bit/96kHz, this track has always had quite a severe, clipped, mastering that, even on vinyl, can sound rather digital so any playback system has to be pretty open and airy to compensate. The Jr, upon the first strains of Sting asking for his MTV, did certainly sound open and rarified. Sting singing in the upper atmosphere as it where. The oncoming solo guitar that introduces the main song was, again, rather thin and restricted in terms of available information but did offer plenty of detail while the presentation was pacey and musical.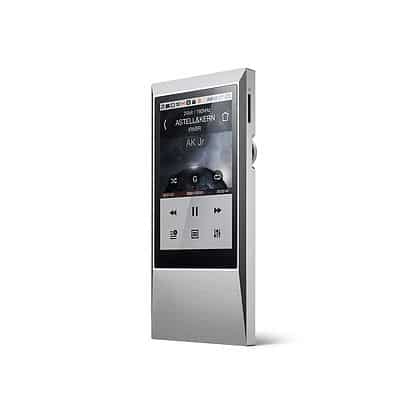 Moving to the Jr as a DAC, I was (again) disappointed to see that Astell & Kern could not resolve the problem of running a Macbook SSD laptop as a DAC host. Despite the MacBook recognising the Jr, the output was silent. Hence, I transferred the Jr to a PC laptop and played Bob Marley's Jamming. Compared to the AK120, the Jr did lift the upper mids into the upper frequency layer, giving the sound a sharper, more clinical aspect. That's not to suggest that the sound was bright but it was rather slender, just like the chassis. Bass didn't have the heavy weight and mass of the AK120 but it remained nimble and punchy. Accompanying guitar and piano from the Jr may have lacked the broad information that many audiophiles might look for but both remained exact and clear-cut. There was never any sense of bloom, smudging or smearing with the Jr which always gave a tight performance.
CONCLUSION
A true mobile player, the Jr is an ideal size and weight for such purposes. It might lack the broad specification and sound quality of the popular AK120 but that machine could easily fit into a home entertainment system and, as I say, the Jr is a more outdoors type of kit. As such, it gives you what you need. In operation, the Jr is accurate, responsive and works well while, in sonic terms, it's slight audiophile-level deficiencies will be less of an issue when you are walking by busy traffic or sitting on a noisy train. As such, the JR give you everything you need as a robust media player.
---
ASTELL & KERN Jr
Price: £400
Website: www.unlimited.com
---
GOOD: slender, elegant design, lightweight, responsive, decent overall sound quality
BAD: not an audiophile system, price, light on connectivity features 
RATING: 7