The Article
Aesthetix' Pandora is a valve-based DAC, the Romulus adds a CD transport mechanism.
21st June 2015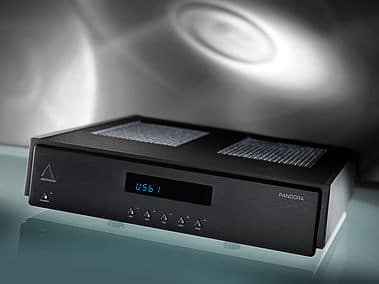 The Pandora is a valve-based DAC with one USB and three SPDIF inputs (plus an optional second USB input). The Romulus includes the same features and construction as the Pandora but adds a CD transport mechanism.
Aesthetix uses a proprietary DSP running on a Motorola DSP56362 chip. The filter's outputs are converted to analogue by a Burr-Brown PCM 1792A running in pure differential mode, using  custom-manufactured crystal oscillators.
Both the Romulus and Pandora feature a current-sourced fully differential zero feedback valve amplifier. Output buffering is also run in pure differential mode with zero feedback. The output section also has separate discretely regulated positive and negative supplies which are isolated from the voltage gain power supplies.
The Pandora features three separate transformers. First, the digital/DSP section is given its own transformer and regulated power supply, while individual digital sections are further locally regulated to isolate them from each other. A second transformer and dedicated regulator are used for the control system and a third transformer, custom-manufactured for Aesthetix, is used in the analogue sections, where six separate windings and regulation stages are used. The Romulus also features a further two transformers in its CD transport section.
The Romulus features a dedicated Red Book CD transport using a Teac audio-only mechanism. Instead of running from SPDIF, data is retrieved from the IDE bus.
An optional high-resolution volume control can be added to the Romulus and Pandora, allowing them to directly drive a power amplifier.
The Romulus and Pandora Signatures offer true native DSD playback: DSD 64 and DSD 128 over the USB inputs. The entire DSP processing section is replaced. The new section includes a Xilinx gate-array which routes DSD data directly into the DAC, bypassing the DSP.
As with all Aesthetix Signature editions, critical coupling capacitors are replaced with Dynamicaps from Peter Moncrief. In addition to the new DSP section a new analogue board is installed, fitted with Vishay Z-Foil audio resistors.
The four standard rubber feet are replaced with Harmonic Resolutions Systems' Nimbus Couplers specially made for Aesthetix.
Available now in both standard and Signature editions, with a choice of either black or silver faceplate. Price for the Aesthetix Pandora is £5,600 with the Signature at £8,300. The Romulus is priced at £6,500 with the Signature at £9,300. The optional high resolution control is priced at £950.
For more information, click www.aesthetix.net