The Article
A Potpouri Of Melodies: Another Whopper
12th February 2020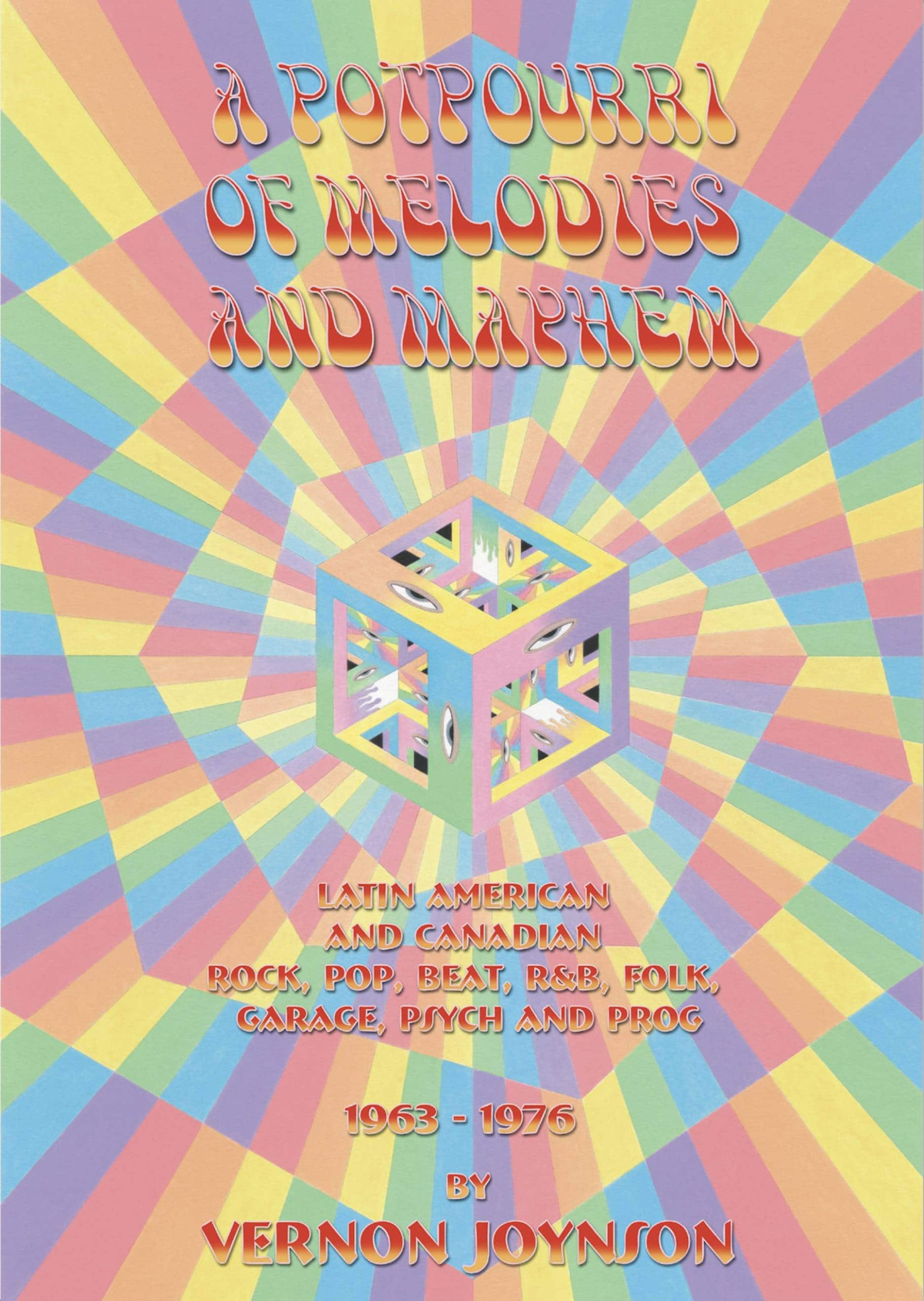 A POTPOURI OF MELODIES AND MAYHEM: LATIN AMERICAN AND CANADIAN ROCK, POP, BEAT, R&B, FOLK, GARAGE, PSYCH AND PROG 1963-1976
Author: Vernon Joynson
Price: £55
Joynson is back with another magnificent and hefty tome. Although, as usual, I suspect that half of the writing time was spent penning the title: it's another mighty one folks. 
Presented in soft back and spanning a quite enormous 886 pages, the focus is similar to the last Joynson book reviewed in these pages, A Melange Of Musical Pipedreams And Pandemonium, in that it focuses on two or more seemingly diverse and unrelated territories. In that case it was Australia, New Zealand, Africa and Turkey. Here, it's Latin America and Canada. 
I did ask Joynson about this head scratching territorial jumble around the time of the release of the last tome and I assume that his answer then is also relevant to this new book. Basically, he wants to squeeze as much in to a single book as possible. He might say that it adds value but I suspect that the production budget has a greater say in things. 
In those terms, that's fine and I applaud Joynson in 'finding a way' to display his meticulous information to the world. His own company, Borderline, is a tiny publishing house where money is always in short supply. If the price to pay for the existence of these fascinating books is a slightly odd contents list, then so be it. 
That contents list is a little eccentric at times, though with the initial 296 pages of Latin American information followed by 537 pages of Canadian (including French Canadian) releases. There are also entries from artists who were from neither of these territories but may have been based in one or the other. Then, slightly bizarrely, you get a discography of the reissue record label Gear Fab, which I always considered an American concern but, hey ho, plus a final 20 page selection of Stop Press entries that adds more Latin American information. Obviously a last minute entry, then. 
Including 12 pages of colour illustrations featuring a host of speedily attired LP covers, the book offers its information within a familiar format. Familiar to fans of Borderline books, that is. Covering the genres listed above, each band/artist features a biography with details of the members of the band, if applicable, the album and singles releases produced by the same, format information (I've even seen information for CD-ROM), years of release, catalogue numbers, what compilations they might have appeared on and any available images and LP cover pictures that can also be shoe-horned in. You'll also find, where available, juicy bits of artist history that might not be wholly music related but that adds flavour to the artist. Leonard Cohen's bankruptcy details being one example. All of the above information is densely and closely typed and is also completely engrossing. 
Slightly quirky and unconventional it might be but this joyous and joyful book is not only comprehensive in its coverage but offers a gamut of enlightening and surprising record releases. As a bit of a music geek, if not freak, being in the company of Joynson means being in the company of a like mind. Hence, you enter into his book and find yourself completely at ease. I was going to suggest that that this book will offer hours of fun and exploratory enjoyment but, who am I kidding here, that should be years of fun and enjoyment! Great value, heaving with precious rarity information, A Potpouri Of…(yada, yada, yada) is a complete winner!
Call 01323 732459 or click on www.fminor.com for more information.