The Article
Sennheiser Orpheus headphones have €50,000 price tag
21st January 2016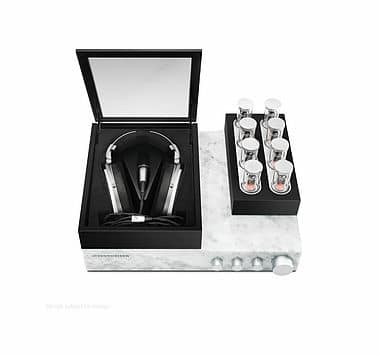 Brace yourself, headphone fans. For two reasons. Firstly, Sennheiser has announced that it will be releasing the Orpheus headphones for sale again. The high-end headphones, which will be hand-crafted in Germany from next year onwards will, and this is the second brace, carry a price tag around €50,000.
The new launch is the second in the Orpheus series, bringing new technology that, says the company, surpasses the original design created in 1990/1991. The product became an icon of the audio industry and was recognised as the best headphones in the world, at the time.
The unique and rather theatrical Orpheus experience begins even before you start listening. When the system is inactive, the components are all retracted. When you switch on, the control elements, each of which are crafted from a single piece of brass and then plated with chrome, slowly extend from the marble housing, before the vacuum tubes enclosed in quartz glass bulbs rise from the base and start to glow. It's like something from Star Trek. Trek with Tubes, possibly. But that's not all. Finally, a glass cover is automatically  raised, allowing the headphones with ear cups finished in genuine leather to be removed. Applause is optional.
Sennheiser also uses exclusive components such as gold-vaporised ceramic electrodes and platinum-vaporised diaphragms. The marble that Sennheiser chose for the amplifier housing comes from Carrara in Italy and is the same type of marble that Michelangelo used to create his sculptures.
Of course.
To learn more, click on the rather pretentious website link: www.sennheiser-reshapingexcellence.com.