The Article
ProJect's two new turntables: RPM 10 Carbon & RPM 9 Carbon
21st January 2016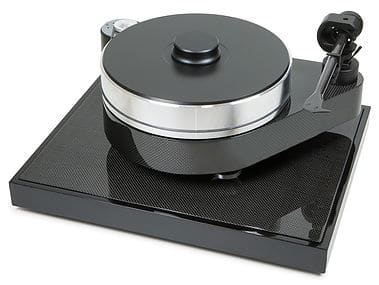 The new RPM 10 Carbon turntable employs 'high mass' principles with resin-coated steel pellets packed inside the CNC-machined MDF structure. The whole plinth is then subjected to a complex heat treatment and carbon fibre surface coating to ensure minimal resonance travels through the turntable. The plinth is finished with magnetic feet.
The RPM 10 Carbon's platter is the same as that found on the Xtension 10 record player. The polished aluminium exterior is internally lined with TPE (thermoplastic elastomer) damping material and topped with vinyl. The whole platter sits on top of a stainless steel spindle with inverted ceramic main bearing.
The RPM 10 Carbon's perimeter drive belt mechanism is driven by a completely decoupled heavyweight motor. The motor sits on top of a custom-designed steel base.
Electronic speed-change between 33 and 45rpm is built into the motor, which also employs its own AC power generator PCB.
The 10CC Evolution Tonearm is pre-installed on the RPM 10 Carbon. This design boasts a conical carbon fibre tube and inverted bearing design. The RPM 10 Carbon is supplied as standard with the new Ground-IT Carbon high-mass platform and a record puck. An acrylic dustcover is available separately in the Cover-IT range. Price is £2,300. UK customers can have an Ortofon Cadenza Black cartridge installed for an extra £1,000.
The Pro-Ject RPM 9 Carbon follows a similar construction path in terms of the plinth and platter and belt drive. The motor has an automatic speed change switch built into the top panel for changing between 33 and 45rpm. The motor also benefits from a built-in AC power generator PCB, to deliver a clean mains supply to the motor. The RPM 9 Carbon is supplied with the 9CC Evolution Tonearm, pre-installed. Price is £1,500. UK customers can have an Ortofon Quintet Black cartridge installed for an extra £400.
For more information, call 01235 511166 or click on www.henleydesigns.co.uk