The Article
T+A PA 1000 E amplifier plus R 1000 E receiver
10th May 2016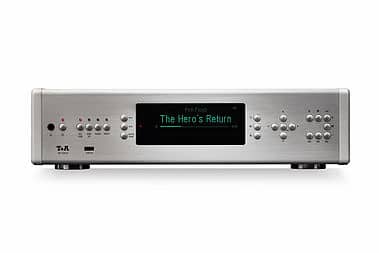 An integrated amplifier, uses op-amps (operational amplifiers) mounted on discrete, voltage-stabilised circuit boards plus a two-stage volume control based on a ALPS potentiometer. A Flat switch is present, which entirely removes the tone controls and Loudness function from the signal path.
The PA 1000 E is equipped with balanced and unbalanced inputs. The balanced input section (XLR) is mounted on its own circuit board, is of fully symmetrical construction and is coupled directly to the pre-amplifier. The power amplifiers take the form of switching output stages, whose output signal is generated by a number of brief positive and negative pulses. The switching output stages have been developed entirely in-house, of discrete construction, equipped with MOSFET transisistors and driver modules with high current capacity. The large mains power supply incorporates a toroidal transformer with separate buffering for each stage.
Over to the receiver now and the R 1000 E. It features a CD mechanism, an aptX Bluetooth module, digital tuner, the Digital Connecting Board for external sources and our new High Res Streaming Client Board. Hence, it can support CD, FM, FM-HD and DAB+ radio, Internet radio with Airable Internet Radio Service, UPnP network music servers, USB memory media, laptops and PCs, music services and mobile devices with Bluetooth.
The output stages of the PA 1000 E adopt the circuit design in full for the R 1000 E, with only a slight reduction in output power.
The MP 1000 E is a CD and digital player plus a new Streaming Client (SCL), which is a network-enabled processor board featuring WLAN, LAN and USB interfaces; a digital tuner, digital SP/DIF inputs, a computer USB input and an aptX Bluetooth module. The USB Device Mode input is intended for streaming music files from a computer. It can process data rates up to 32bit/384kHz for PCM and DSD 256 (12 MHz). The heart of the MP 1000 E is its double-mono differential converter (DAC) combined with audiophile high-bandwidth analogue output stages. It even possesses a clock resynchronisation circuit to help eliminate jitter. As an option the MP 1000 E can be fitted with the VVM pre-amplier module to provide volume control; this may be necessary, for example, if you wish to use active loudspeakers with the machine.
To learn more, click www.ta-hifi.de