The Article
furutech NanoFlux NCF cables feature nano liquid
3rd June 2016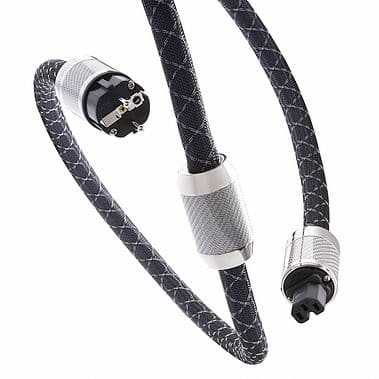 It doesn't come with an exclamation mark but I thought that a name like that deserved one. So what is it?
Furutech's recently-developed Alpha Nano-Au-Ag OCC conductor underpins the brand's new top-of-line power and speaker cables and they are called? Yes, that's right.
During construction, the cables undergo a two-step cryogenic freeze and demagnetization process and then are treated with Furutech's transmission enhancer, Nano Liquid. So far, so Star Trek.
Nano Liquid features a ratio of tiny gold and silver particles (approximately eight nano-meters or 8/1,000,000th of a millimetre in diameter) that finely coat the conductor, filling up and smoothing out any microscopic concave-convex areas left on the conductor's surface during the production process and thus providing a greater contact surface.
Furutech's engineers found that the precise ratio of gold and silver particles and of the dispersing Squalene oil used in the Nano Liquid had a notable effect on sound reproduction.
The NanoFlux NCF features a double-layer insulation combined with an outer shield, damping layer and EMI-absorbing modules plus NCF piezo ceramic series connectors. Furutech's Alpha pure-copper, rhodium-plated conductors are housed within a body that contains an active damping material, Nano Crystal² Formula (NCF). The latter incorporates a crystalline material that, says the company, "generates negative ions that eliminate static…[and] converts thermal energy into far-infrared."
This is then enclosed within a multi-layered non-magnetic stainless steel and silver-plated carbon fibre outer shell, incorporating a special damping and insulating acetal copolymer, the EMI-absorbing GC-303.
The new NanoFlux speaker cable, again built around the Alpha Nano-Au-Ag OCC conductor, sports Furutech's CF-201(R) rhodium-plated nonmagnetic pure copper spades along with CF-202(R) non-magnetic rhodium-plated banana connectors.
Got that? I'll be testing you later…
Prices:
NanoFlux-NCF power cable
Length 1.8m £ 3,795
NanoFlux speaker cable
Length 2.5m £ 4,995 (per pair)
Custom lengths are available to order.
To learn more, call 0118 981 4238 or click on www.furutech.com